by Michael Andersen (Contributor) on August 13th, 2015 at 2:34 pm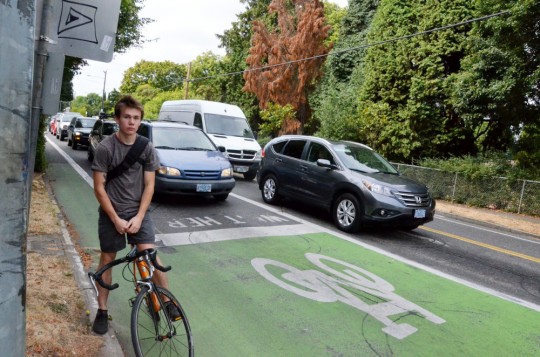 About 600 to 800 people a day currently bike on 26th to cross Powell. The city wants to create a second, more comfortable crossing at 28th, but the state says it won't allow one unless the lanes and bike boxes at 26th are removed.
(Photos: M.Andersen/BikePortland)
The Portland Bureau of Transportation is facing pressure from its counterparts at the Oregon Department of Transportation to do something it's almost never done before: remove bike lanes from a street.
An ODOT official said she could not cite evidence other than the site-specific judgment of her engineering colleagues that removing the bike lane on SE 26th Avenue would improve overall road safety. But she said that because 26th is not as safe to bike on as 28th would be, it stands to reason that the bike lane on 26th should be removed in order to encourage people to cross at 28th.
Therefore, ODOT has agreed to approve the city's request to add a new traffic signal at 28th and Powell only on the condition that the city remove the bike lane and bike box from 26th.