The City of Portland has unleashed a barrage of attacks against a key rival in their fight against speeding.
With Vision Zero firmly planted as a top priority at the highest levels of city government, the Bureau of Transportation has turned their attention to two of our most dangerous streets: SE Division and SE 122nd.
Here are updates on several speed-related items we continue to track…

Signs are up on Outer Southeast Division
As you can see in our lead photo, the signs are up — and people are happy about it. The day after City Council unanimously passed an emergency ordinance to reduce the speed limit by five miles-per-hour, city crews took down the old signs and put up new ones with high-visibility flags to draw attention to the change.
As per the official city ordinance, PBOT has replaced all the signs between 82nd and 174th (city limits).
But as all smart transportation reformers know, just changing the speed limit isn't enough to change behavior. So…
Speed cameras now operational on SE Division and SE 122nd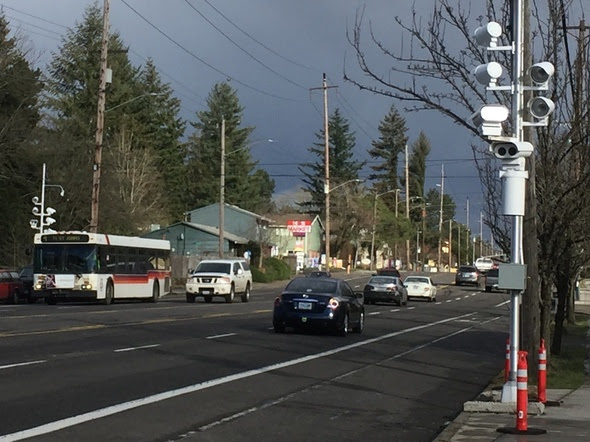 Four days after Council voted to lower the speeds, the City of Portland flipped the switch on speed safety cameras at two locations: one on SE Division and the other on SE 122nd of PBOT's most statistically dangerous "high crash corridors."
According to PBOT, the rate of crashes on SE 122nd that involve someone walking is about 50 percent higher than the citywide average. Their crash data also shows that in the over the past decade, more people were seriously injured or killed while driving on SE Division than on any other street.
The new camera at Division and 156th is the second one installed in the city (after Beaverton-Hillsdale Highway) and it was installed four months ahead of schedule. The timeline was sped up due to the "emergency" conditions on the street. Last Monday (3/6), Transportation Commissioner Dan Salztman and Multnomah County Commissioner Jessica Vega Pederson were among the dignitaries and advocates on-hand at a news conference to raise awareness of the cameras and the speeding issue.
About the tragic safety history on Division, Saltzman said, "That's unacceptable, and it doesn't have to be this way. The emergency speed reduction on SE Division, coupled with these safety cameras and more improvements coming soon, will save lives."
The other camera has gone up on SE 122nd near where it crosses the Springwater Corridor path. Both will issue warnings through April 4th. After that, $160 tickets will come in the mail. State law mandates that all revenue from the tickets gets spent to administer the program and/or pay for safety improvements.
Portland Police Bureau steps up enforcement
A key part of PBOT's anti-speeding efforts on SE Division Street happened on Monday, March 7th. Members of the Portland Police Bureau Traffic Division worked with PBOT on a "Vision Zero traffic safety mission." For two hours between 7:00 and 9:00 pm, officers focused on Division between 82nd and 148th.
In that time, officers wrote 34 citations for 46 separate violations and handed out 26 written warnings. One driver was cited after traveling at 53 mph in the 30 mph zone.
During the stops, officers educated people about the Vision Zero program. In some cases, they told the offender about the Share the Road Safety Class, which can be taken as part of a diversion program and will wipe the traffic infraction off your record upon completion.
Lower speed limits coming to many more locations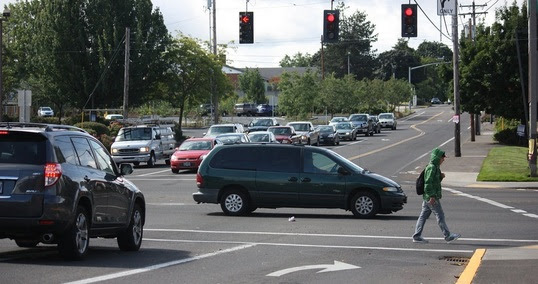 Along with lower speed limits on Division, enforcement, and the cameras, PBOT has also announced eight new sections of streets where they've made official requests with the State of Oregon for lower speeds.
The requests below would drop the speed limit from 35 to 30 mph:
– SE Holgate, 92nd to 136th
– SW Stephenson St, 35th Ave. to Boones Ferry
– SW 35 Ave.Dr., Taylors Ferry to Stephenson
– SW Huber St., Capitol to 35th
– SE 99th/96th, Stark to Division
– SE Woodstock, 57th to 91st
– N Willamette Blvd., Richmond Ave. to Rosa Park
– SE 92nd Ave., Lincoln to Reedway and Tolman to Sun Crest
The requests above are in addition to 13 other speed reduction requests that are still pending with the State of Oregon.
These recent efforts to reduce speeding are just one part of a multi-pronged strategy to improve safety on outer Division and streets citywide. Learn more about the effort at the city's Vision Zero website.
— Jonathan Maus: (503) 706-8804, @jonathan_maus on Twitter and jonathan@bikeportland.org
BikePortland is supported by the community (that means you!). Please become a subscriber or make a donation today.