The commercial stretch of 28th Avenue will get speed bumps and a 20 mph speed limit.
(Photo © J. Maus/BikePortland)
The first on-street, low-stress route that (more or less) connects Portland's northern and southern borders is likely to start construction in April or May.
That's pending federal approval, which city project manager Rich Newlands predicted will arrive this month. A $2.4 million federal grant earmarked for biking improvements paid for almost all of the project.
The 9.1 mile 20s Bikeway has changed quite a bit since it was introduced in 2013 as a more or less straight line running directly through many of Portland's fastest-growing neighborhoods, plus Reed College, Concordia University, Grant and Cleveland High Schools and two major grocery stores.
Here's the original concept:
And the final route:

Most notably, the main route jogs to avoid the two biggest commercial nodes, at 28th near Burnside and 26th near Clinton, because the city decided that on-street auto parking directly in front of the stores was more important than all-ages bike access to the future of those districts.
The main route jogs to avoid the two biggest commercial nodes, at 28th near Burnside and 26th near Clinton, because the city decided that on-street auto parking directly in front of the stores was more important than all-ages bike access to the future of those districts.
There's also a new northeastward jog at the northern end of the bikeway, running along 32nd Avenue north of Alameda Ridge. That's intended to provide a relatively flat route up the ridge (which will get a new bike lane for people climbing the hill) and follow existing bike traffic patterns in the area.
In the middle, the route has been shifted from 28th to the lower-traffic 26th, further from Grant High School and the Grant Park Fred Meyer, in order to avoid a difficult corner at Halsey or any parking removal between Interstate 84 and Broadway.
At the southern end, the route has also been shifted from 28th Avenue (where residential curbside parking would have been removed for buffered bike lanes) to 32nd Avenue, where people biking to connect to the Springwater Corridor will share the road with cars and the No. 19 bus on a street without speed bumps or other traffic calming measures. (The Eastmoreland Neighborhood Association objected to adding speed bumps, and the city agreed with them. The city did, however, reject the ENA's subsequent objection to improving the bike lane on four blocks of Woodstock Boulevard in order to preserve curbside parking in front of six large houses overlooking Reed College.)
Near Powell, the city has agreed to remove one of southeast Portland's most-ridden bike lanes from 26th Avenue if the Oregon Department of Transportation continues to insist on it. (The state required the bike lane removal from 26th as a condition for approving a new bike-pedestrian traffic signal at 28th.)
The city hopes to draw on the next year or two of ridership data to persuade the state to save the 26th Avenue bike lane, but ODOT says it will not reveal what if anything might change its mind.
Commercial greenway concept scrapped without discussion as money ran low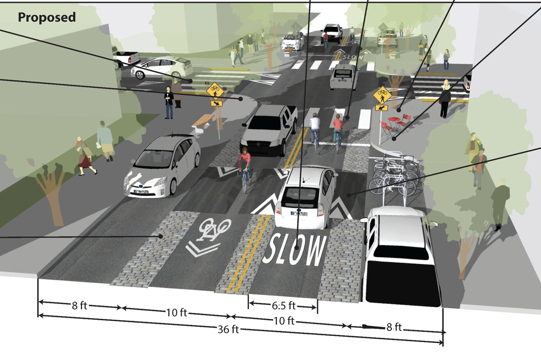 A so-called 'commercial greenway' concept for 28th created by Kirk Paulsen, Brian Davis and Nick Falbo. See
here
for more detail.
In the 28th Avenue business district near Burnside, the city is planning to install speed bumps and a lower speed limit of 20 mph.
Two years ago, the city promised the project's citizen advisory committee a separate discussion about that area in a subcommittee. One member of the committee who works as a traffic engineering consultant recruited two peers to create a pro-bono concept for a "commercial greenway," adapted from Dutch infrastructure, that would combine fire-friendly speed bumps, cobblestone pavement, curb extensions with trees and raised sidewalks.
"This looks great," said Scott Mapes, owner of the nearby restaurant La Buca, when the concept was presented to the advisory committee. "It's the best thing I've seen so far. Bravo!"
Mapes' enthusiasm for the commercial greenway concept, which wouldn't have removed much if any parking, came after 57 nearby businesses signed a letter opposing parking removal and sent it to Transportation Commissioner Steve Novick.
Last spring, though, the city quietly scrapped its promise to discuss the greenway concept further. Kirk Paulsen, the advisory committee member who presented it, said Newlands told him that "the project simply ran out of money."
City spokesman John Brady said Wednesday that the city's lead traffic engineer "did not feel that the proposed elements delivered enough bang for the buck, that is, the value in traffic calming didn't justify the costs."
(Update: in a comment beneath this post, Nick Falbo, one of the volunteers who helped illustrate the commercial greenway concept, offers some similar criticism.)
New signals, new sharrows
The new signalized crossing of Stark Street at 30th.
Despite all those compromises, the route definitely improves north-south connections to all of these important destinations and others.
On today's eastside biking grid, north-south routes through some of the most bike-heavy neighborhoods in the United States are left mostly to improvisation in the 2.5 miles between NE Rodney/SE 7th and NE 47th/SE 41st. The 20s Bikeway will change that using a trail of sharrows; new traffic signals or half-signals at Broadway, Burnside, Stark, Hawthorne and Powell; and one new half-diverter that will forbid (though not physically block) northbound traffic onto 28th from Holgate.
One spot that'll get a big change is the crossing of Interstate 84 at 28th Avenue. The bridge there is slated to receive Portland's first bidirectional protected bike lane, running along the west side of the bridge. The two bike lanes will each be 5 feet wide and will have a two-foot buffer. On the east side of the bridge, the northbound bike lane will include a five-foot-wide striped bike lane to serve people continuing northbound on 28th.
A few parking spaces will be removed
28th Avenue north of Sandy would get buffered bike lanes on each side.
Between Interstate 84 and Sandy, the city decided to remove a handful of contested parking spaces outside the bar Katie O'Brien's. We reported in 2014 that the city was considering spending $30,000 to narrow the sidewalk across the street rather than remove those free on-street spaces. (As we reported, the management of Katie O'Brien's had decided a few years before to not pay a neighbor for parking spaces on a nearby private lot.)
Below is the stretch from Interstate 84 south to Oregon Street. Newlands said Thursday that this design is slightly out of date — the very northern section, near I-84, will actually get a five-foot bike lane on the east side of the street to serve people planning to continue north on 28th.
The corner of 28th and Sandy will get green bike boxes in the north-south direction. South of Sandy, the northbound bike lanes will go away and the southbound bike lane will continue to Hoyt, where it'll sweep left in a "jug handle" design pointing to the new neighborhood greenway that zigzags around the commercial district:
No diverter on NE 32nd despite neighborhood support
The city rejected a recent request from the Concordia Neighborhood Assocation to install a traffic diverter on 32nd, citing its new neighborhood greenway standards that set maximum levels for auto traffic on neighborhood greenways.
"The counts are not even close to the thresholds for consideration," Brady said in an email. "Instead, we are committed to monitoring conditions over time, and if the traffic counts do get close to the new guidelines then we can start up a process for installing them when needed."
Stakeholder committee member Paulsen, who lives in Concordia, wrote in an email to BikePortland that the traffic levels are indeed close to one of the triggers for a traffic diverter:
At 32nd Avenue immediately north of Prescott Street on the yet-to-be-built 20s Bikeway within the Concordia Neighborhood, the traffic counts from 2010 (which have likely increased since then) show approximately 50 vehicles per hour in the peak direction. I can only imagine that when some of the stop signs are flipped as part of the bikeway project the route will attract even more cars to cut-through along this route. Compare those numbers to the following…

The alternate guidelines within the Greenway Report state (emphasis is mine): "Alternate Guideline: An alternate vehicle volume measurement based on vehicles per hour may be used in lieu or in addition to ADT: to design, build and maintain for an average of 50 vehicles per hour in the peak direction, understanding that a neighborhood greenway can operate at an average of 75 vehicles per hour in the peak direction, but should be improved or maintained to not exceed 100 vehicles per hour in the peak direction.
The December 2010 counts Paulsen mentioned showed 30 to 32 cars during the morning peak hour and 40 to 58 cars during the evening peak. Brady said the city wasn't able to look up the exact counts by Wednesday in order to comment.
In his Tuesday email, Brady said the only remaining hurdle is approval by the Federal Highway Administration, which funded this project as part of Portland's goal to triple the rate of bike use over the next 15 years.
"If we receive approval from the FHWA in the near future, we will most likely start construction in April-May," Brady said. "The usual caveat applies: if there are unforeseen delays, this start date will also change."
Learn more about this project in our 30-story archive that dates back to 2009.
Correction 1/15: An earlier version of this post omitted the decision made last summer, but not announced until now, to stripe a northbound bike lane on 28th Avenue's Interstate 84 bridge.
— Michael Andersen, (503) 333-7824 – michael@bikeportland.org
Michael Andersen was news editor of BikePortland.org from 2013 to 2016 and still pops up occasionally.