The Portland Bureau of Transportation has closed the book (for now) on the public process for their $2.4 million federally funded 20s Bikeway Project. For the past nine months, the city has convened an advisory committee whose goal was to develop a plan for the north-south route. At the group's final meeting in southeast Portland last night, members agreed to support PBOT's current proposal which utilizes a mix of bike lanes, buffered bike lanes, and neighborhood greenway treatments on a corridor bound by 26th and 32nd Avenues from the Springwater Corridor to NE Lombard Street.
As we've covered at length here on the Front Page, the most complicated and contentious segment of the project has been the central section on 28th Avenue that goes through a commercial district. At the meeting last night, PBOT Project Manager Rich Newlands said the city's approach to this section from the get-go was to create an alternative to 28th that would give less daring riders a lower-stress option. Newlands denied the idea that PBOT gave up on a separated bikeway facility on 28th solely in response to a pro-parking petition signed by business owners along the street. "I really need to stress… That's not how this played out," he said. "We made that decision long before we received the petition." Newlands claimed that PBOT has been aware of the "significant land-use issue" (a.k.a. 28th Avenue's narrow width and high on-street parking demand) all along. "The petition confirmed, but didn't change our understanding of those issues," he said.

"This looks great! It's the best thing I've seen so far! Bravo!"
— Scott Mapes, owner of La Buca restaurant, responding to a presentation on the commercial greenway concept
Earlier this year PBOT put forward an option that would have created a buffered bike lane on 28th, in lieu of the existing on-street parking lane, but only in the southbound direction. Bicycling northbound would be a shared environment similar to what exists today. Addressing the buffered bike lane proposal at last night's meeting, Newlands said it simply never gained enough traction. "No business owner had approached us to support this. In exchange for a lot of on-street parking removal [about 100 spaces], you only got direct access in one direction. The couplet idea just didn't resonate."
PBOT's proposal that was supported by the SAC last night will be to create a neighborhood greenway on 30th and keep 28th as an "enhanced shared roadway." To try and calm traffic and make bicycling on 28th more pleasant than it is today, PBOT will install sharrows, crosswalks and fire-friendly speed humps, and reduce the speed limit to 20 mph.
Many people want to see low-stress bicycle access on 28th (instead of two blocks over) and there remains skepticism that the current plan will create conditions that will further our goal of 25% bicycle use by 2030. PBOT themselves acknowledges this. In explaining why they're investing in 30th as alternate route, Newlands said that, "Even if we could achieve a really great enhanced, shared environment on 28th — which I'm hoping… we can do a dramatic improvement — it would still not meet our threshold for the 'interested but concerned'."
Given the limitations in PBOT's plans and the absence of political or public will to remove auto parking on both sides of 28th in order to install a separated bike lane, a new idea has emerged: the "commercial greenway" concept. Introduced here yesterday by Kirk Paulsen (and co-created by his colleagues Nick Falbo, and Brian Davis), the idea is to put PBOT's "enhanced shared roadway" on steroids.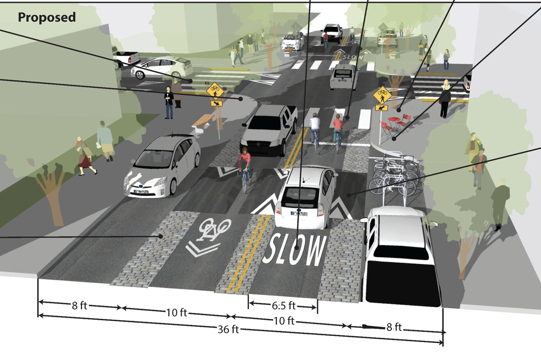 The commercial greenway concept for 28th, as created by Kirk Paulsen, Nick Falbo, and Brian Davis.
In a nutshell, the commercial greenway would create an environment with very low speeds (around 10 mph) that would transform 28th into a place (not just a street to travel through) where road users feel safe and relaxed whether on a bike, in a car, or on foot.
Kirk Paulsen (L) and Brian Davis presenting their commercial greenway idea.
PBOT let Paulsen and Davis present the idea at the meeting last night and it was very well received by several SAC members and at least one business owner. (The reaction echoed the broad support for the idea we've had in the comments here on BikePortland.)
Scott Mapes, owner of La Buca restaurant at 28th and Couch, stood up and said, "This looks great! It's the best thing I've seen so far! Bravo!" (It's worth noting that Mapes was one of 60 business owners who signed the petition against parking removal.)
Even SAC members who had hoped for a separated bikeway agreed that the commercial greenway concept was a great idea. Rob Sadowsky with the Bicycle Transportation Alliance (who had said the southbound buffered bike lane was a "smart compromise"), supported the idea. Sadowsky added that he's disappointed PBOT didn't take the opportunity for a dedicated bikeway and that he's "not sure" the city's current plans are "ripe for success". SAC member Brendon Haggerty also said he's disappointed at the outcome; but that the idea presented by Paulsen is the "next best option." "I feel like parking is ruling the day, Haggerty continued. "That said, I would have liked to see us be bold with a separated facility; but what I saw tonight from Kirk and Brian is the immediate, next best option."
Haggerty then got a laugh when, referring to parking, he said, "I realize it [the commercial greenway concept] is more expensive, which makes me wish we had a scarce resource that is very valued."
"For those of you who feel like we're missing our goals by not providing separated bike facilities on 28th, we just don't feel we have a defensible argument to go in that direction until these questions [about parking] are answered. We got to be smarter than this."
— Rich Newlands, PBOT project manager
Newlands from PBOT referred to the commercial greenway concept as, "a cool way of looking at what we could build." "Some of these ideas will take a lot of evolution for PBOT to get to… This is a neat approach."
While there does appear to be support for the commercial greenway concept at PBOT, no commitments have been made and it's unclear what the next steps are. For his part, Paulsen is happy with all the support his idea has gotten and he's optimistic that PBOT (and perhaps even City Hall once this project goes to Council) will incorporate some of its elements into their design. Paulsen says he'll continue to meet with business owners and other supporters to rally momentum in hopes of making the idea a reality in the near term.
While the city will now move into the design and construction phase of the 20s Bikeway, PBOT Planning Manager Art Pearce announced at the meeting last night that the agency has received a grant from ODOT to embark on a comprehensive study of parking in dense neighborhoods and commercial districts. Pearce said Portland's increasingly complex parking issues (especially around the infamous "no-parking" apartments controversy) spurred the project and that issues around bike access on main streets have also made this a top priority for the agency. The study, which will begin this summer, will include an in-depth analysis of parking inventory as well as user surveys.
Newlands said the parking study should take about one year to complete. At that point, he suspects they'll be able to handle the perennially prickly parking-vs.-bike-lane debates with more ammunition. Once the study is done, PBOT thinks it might help change the conversation about parking and maybe even make bicycle access improvements easier to justify. "For those of you who feel like we're missing our goals by not providing separated bike facilities on 28th, we just don't feel we have a defensible argument to go in that direction until these questions [about parking] are answered. We got to be smarter than this."
On a positive note for supporters of the commercial greenway concept, Newlands added that, "Regardless of what we learn in the parking study, we still will be trying to push the envelope in the way presented by Brian and Kirk."
This project is expected to begin construction in late 2015.
Stay tuned for a more detailed look at PBOT's entire proposal.
[jonathan_byline]