A 158-unit building proposed at 419 E. Burnside would feature a "bicycle lounge," possibly with free coffee and video games.
(Images:
Myhre Group Architects
)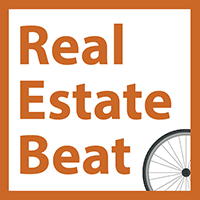 After two decades of waiting for Portland's bike network to arrive downtown, it looks like downtown is headed for Portland's bike network.
Now that life on the city's eastside grid has exploded in popularity (and therefore in expense), major developers are making a lunge across the Burnside Bridge in an effort to bring 9-story living to the east side of the Willamette.
And as construction start dates approach for the first projects of the so-called "Burnside Bridgehead," the excellent bike access is turning out to be central to their plans.
"We have what we think is going to be one of the coolest bike facilities in the city," said Erik Winter of Myhre Group Architects, whose firm is behind plans to turn the auto sales lot between Grand and MLK Boulevard into a six-story, 158-unit apartment and commercial building marketed to singles and couples aged 25-34. "It's a lounge. it's actually going to have a seating area and a TV."
The proposed "bicycle lounge" at 419 E. Burnside might also offer a mezzanine area with free console video games for residents, complimentary coffee and decor developed from recycled bike parts, Winter added.
Floor plan for 419 E. Burnside, including the "bicycle lounge" (labeled "18") facing NE MLK Boulevard. It's just north of a hallway, marked here in gray, expected to run all the way through the buidling.
"They really want people to hang out there, check the commute on the way in and really make it a nice place for people," Winter said. "And it's front and center. It's on MLK, so it's going to be seen by a lot of people. We wanted to make it front and center rather than in the basement or tucked away at the bottom of the building."
Documents filed with the city for the 419 E. Burnside project describe the building as aiming for the 70 percent of inner eastside households who make "less than $75,000 a year." Possible residents described in its pages include a "sous chef by day, drummer by night," the "brewmaster's apprentice at a local brewery," a "stylist at local salon" and a young bearded gentleman described as a "social change activist & bicycle mechanic" (second from left in the image below).
Some anticipated residents of 419 E. Burnside.
Here's the accompanying rationale, complete with the assumed commute choice of the building's residents:
Why People Live Here: (1) to be close to the hippest new restaurants and locally grown retail shops; (2) the neighborhood is still attainable from an affordability standpoint; and (3) it is within walking and biking distance to several of Portland's urban employment hubs.
It's a safe bet that bikes will be popular here. According to 2012 Census estimates, one in five employed residents of the central eastside usually rides a bike to work. That's enough to rank it 38th for bike commuting out of 73,057 Census tracts in the country.
"There are a lot of people at our company who like to bike," said Winter, the architect. "Our clients are avid bikers, too."
In addition to the now-standard ground-floor room with vertical bike parking, every unit at 419 E. Burnside will have in-room bike parking, too.
The 419 building has plenty of company on the way. Down the hill, the building already in progress will be a spectacular 21-story wedge currently known as Block 67, designed by the company that's also been hired for Nike's new complex in Beaverton:
Block 67, just north of the Burnside Bridge between NE 2nd and 3rd, would include 284 apartments plus ground-floor retail and open in 2016. Plans call for it to offer parking for 200 cars and 426 bikes. It's seen here from the southeast.
(Images:
Skylab Architecture
)
Block 67 as seen from the northeast, approaching from the Couch bike lane or through the front window of a No. 19 bus.
Then there's Block 75, planned for the block north of Couch between NE 3rd and MLK. It's the result of a partnership between central eastside office-space pioneers Beam Development and Eric Cress of Urban Development Partners, the risk-taking company that kicked off Portland's surge of zero-auto-parking apartments back in 2011.
Block 75 would be a multi-phase office, retail and residential development (including 60 apartments and 30,000 square feet of office space) across the street from the renovated
Eastside Exchange
. It'd offer parking for 51 cars and 104 bikes.
(Image:
Works Partnership
)
And finally, the smallest and flashiest of the bunch would be a proposed six-story retail and office building slated for the grassy lot where Couch curves around to meet Burnside. It's being called the Fair-Haired Dumbbell and seems certain to be a talker if it's built:
The Fair-Haired Dumbbell would have ground-floor retail, five floors of office space and 36 "robotic" parking spaces underneath.
(Image:
Guerrilla Development
)
The bike-friendliness of these buildings will certainly vary, and we nervously await the streetscape changes they'll prompt in this area. But as these projects prepare to bring jobs, storefronts and lofty residences across the river while providing comparatively little garage space, it's clear that they'll be leaning heavily on the biking networks that serve the inner east side.
It's almost enough to make you wonder if the area might be more likely to develop successfully if there were physical barriers separating bikes across the Burnside Bridge, or a bike lane into downtown that doesn't merge into a turn lane, or even a comfortable bikeway on Grand Avenue.
— The Real Estate Beat is a regular column. You can sign up to get an email of Real Estate Beat posts (and nothing else) here, or read past installments here. This sponsorship has opened up and we're looking for our next partner. If interested, please call Jonathan at (503) 706-8804.