Leonard Barrett, project manager of the remodeled 80,000-square-foot Eastside Exchange
office building at NE 3rd and Couch, is a big fan of the view from the rooftop patio.
(Photo © M.Andersen/BikePortland)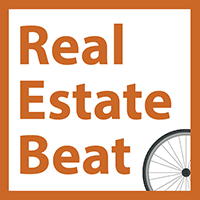 Portland's self-image as an economic laggard has never looked more out of date than it does right now in the longtime industrial district on the Central Eastside.
And the rising appeal of low-car-friendly life on Portland's eastside grid is busting an even older stereotype: that getting a good-paying job means heading west.
"A lot of the talent, especially that a lot of these young tech companies already have or are going after as they grow, tend to live on the east side, and appreciate the culture and the types of amenities found on the east side," said Leonard Barrett, project manager for Beam Development's new Eastside Exchange building.
The building, a onetime ice cream cone factory, just remodeled and opened 80,000 leasable square feet of so-called "Creative A" office space: high unfinished ceilings, big windows, shared public spaces — and lots and lots of bike, foot and transit commuters.
"We've been really surprised by how low the demand for parking spaces has been," Barrett said. (The building, expected to house 350 or more employees, has 126 on-site parking spaces.) "I think you always go into this kind of thing worrying that demand is too high, that you haven't had enough. We haven't seen that thing here at all. … Cascade Energy is going to have over 100 people here, and they only have 33 spaces."
Another early tenant, Trapit, has 30 employees and is expanding from Beam's Eastbank Commerce Center. Their parking space request: two.
"They say that about half or two-thirds of their company either bikes, runs, walks or rollerblades to work," Barrett said.
Beam has been a big part of the central eastside's transformation since 2002. The Eastbank Commerce Center, a remodeled furniture warehouse, set the mold for Portland's central eastside (now officially branded as "Produce Row," named for the area's former role warehousing the Willamette's agricultural products) as the city's next hotspot for office workers.
The Eastside Exchange building, center with tower, will
anchor hundreds of new offices and apartments
proposed for the "Burnside Bridgehead."
Ten years ago, it might have seemed crazy: The region's economy had been scraped raw by the decline of the U.S. wood-products industry. The tech boom (then almost entirely in the Washington County suburbs) had gone bust. And with all the region's public transit focused on its downtown and no room for suburban-style auto parking lots, how could the relatively underserved eastside bring in enough workers to fill these new offices?
Then a few things turned in Beam's favor. Responding to city investments like the Eastbank Esplanade, Portlanders started biking to work in big numbers — a perfect solution to the eastside's transportation shortage. Fed by a surge of educated workers choosing to move to Portland, the tech sector rebounded, both in Washington County and Portland proper. And the rise of telecommuting and collaborative work gave a new importance to Beam's specialty: making weird old spaces cool.
"To stay relevant as an employer, you have to create places where people really want to be."
— Leonard Barrett, Beam Development
"To stay relevant as an employer, you have to create places where people really want to be," Barrett said. "We try to do a really good job of curating our retail and food and drink tenants, and I think we've done a pretty good job with Bunk Bar, Clarklewis, Boke Bowl and Olympic Provisions."
Finding the perfect restaurant or bar is so important to a modern office building, Beam believes, that it'll leave spaces empty or sign sweetheart deals in order to boost the building's long-term appeal as office space.
The Water Avenue Commerce Center, an earlier Beam
project, helped show Beam how important bike
commuting has become to startup companies.
"We'll take an extra six months, an extra year, 18 months to find the right restaurant tenant," Barrett said. "Maybe even if it's not as good of a deal. We have to put more tenant improvement allowance, but we just think they're going to nail it, and it fits with the identity of the building and it's going to be the type of place that everyone's going to love to be."
With 70 indoor bike parking spaces and conversations in the works about using a massive outdoor covered bike parking structure that's proposed next door, Beam's team — including Barrett, 27, who bikes to work regularly himself — is putting big emphasis on bikes not just because they like them personally but because, for the Central Eastside, bikes are bringing prosperity.
The Eastside Exchange will offer larger average spaces than Beam's other eastside office buildings, in part because the crop of startups incubated in the Eastbank Commerce Center and Water Avenue buildings are outgrowing their spaces as they become significant Portland employers. For Barrett, it's like watching a new way of doing business take root and grow.
"We work with a lot of companies that start with two or three people, and then are 10, and then are 30," Barrett said. "We're pretty close to the people in the buildings and really kind of have our fingers on the pulse of what's going on."
— The Real Estate Beat is a weekly column. Read more here.
Michael Andersen was news editor of BikePortland.org from 2013 to 2016 and still pops up occasionally.