Source:
Census
. Chart by BikePortland.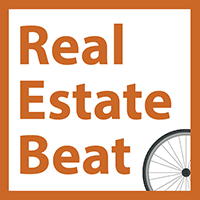 As Portlanders puzzle over why local bike, bus and rail transportation has stopped rising, last week's Census figures show another trend continuing to reshape the city's population.
New construction in the central city hasn't come close to relieving one of the country's harshest rental housing shortages.
For structures built before 1940 — the bungalows and walk-ups built before the age of automotive planning that cover most of the land between the Willamette River, 82nd Avenue, Powell and Lombard, including many of the most bike-friendly neighborhoods in North America — median rents rose 19 percent in the two years from 2011 to 2013, Census estimates show.
Since 2005, when the City of Portland's population growth began to dramatically outpace its supply of new units, rent in these central-city buildings has risen 47 percent.
"In Irvington, I can pretty much stick a sign in the yard and have it rented within a couple days," said Shea McGrath, a broker with Carefree Property Management, in an interview Tuesday.
Citywide, median rents rose 9 percent from 2011 to 2013 and 37 percent since 2005. Nationwide, median rents are up 4 percent since 2011 and 24 percent since 2005.
"In terms of the Portland rental market, I don't really see anywhere the rents are not increasing," said Nicholas Cook, owner of Sleep Sound Property Management.
There's little sign that Portland's rental housing shortage is easing. The metro area's rental vacancy rate was just 3.1 percent in 2013, its lowest in at least a decade and the second-lowest in the country after San Jose's.
In fact, the Portland area's rental vacancy rate in 2013 was the fourth-lowest recorded for any of the country's top 75 metro areas in any year since 2005, when the Census began tracking the figure.
Though people who spend time in central Portland sometimes speak as if the city is in the midst of total transformation, Census figures show the smattering of new four-story apartments on Division, Williams and elsewhere are basically a drop in the housing bucket.
The city's supply of housing units grew by just 1.6 percent in 2011, 2012 and 2013 combined, according to the Census American Community Survey. The estimated number of households in the city, meanwhile, grew twice as fast.
To the extent that these estimates are accurate, that means that if about 4,000 net new households joined Portland in those years, about 2,000 either shacked up with another household or were priced out entirely by rising home costs. Tens of thousands of other households, of course, simply swallowed the big rent hikes; others moved to neighborhoods they might have avoided a few years before.
"They were already starting at kind of a high deficit in housing — a lot of it is kind of backfilling the deficit," said Cook of the current construction. "I still think that supply is probably going to be less than the amount of people that are moving in."
Demolitions of old houses aren't to blame for the rent increase among those that remain: the Census' estimate for the number of occupied units in pre-1940 structures actually rose slightly from 2011 to 2013, meaning the number of demolitions was statistically negligible. There's also little chance it's just a data fluke. The two-year rent increase among old buildings is far beyond the Census' margin of error.
"It makes the utmost sense to invest in housing along those corridors … I think if we walk away from that vision, that a better city will not result."
— Jason Miner, 1000 Friends of Oregon
Instead, tenants and housing experts said vacancies are low and rents soaring for all units in neighborhoods close to the region's two main job centers: downtown Portland and central Washington County.
"People want to live in those kinds of neighborhoods," said Jason Miner, executive director of the anti-sprawl nonprofit 1000 Friends of Oregon.
In 2005, Portland's rental vacancy rate was about 9.7 percent, exactly the same as the national rate and in the middle of the pack for U.S. cities. But over the next few years (years that also, for whatever reason, saw a huge surge in local bicycling) people began pouring into the Portland's area's rental housing, driving the metro area's vacancy rate to the lowest in the country in 2009 and 2010. It's hovered in the top ranks since, as development has failed to keep up with people's rising desire to live in Portland.
In response, landlords have apparently seen little reason not to continue raising their prices at about twice the national rate, even faster in walkable, bikeable, transit-rich areas that were originally built without cars in mind.
As rental prices in inner Portland neighborhoods have risen, people who can't afford it are forced further and further away from their jobs. Once that distance goes beyond the 2-4 mile sweet spot for bicycling, other modes — like driving and transit — start to become more competitive.
The City of Portland, meanwhile, is in the midst of a public comment period for its 20-year comprehensive plan, with many Portlanders urging the city to prevent new development during this process and the zoning and parking reforms that are scheduled to follow.
"It makes the utmost sense to invest in housing along those corridors where we're going to put more frequent transportation," Miner said. "I think we're at a real historic turning point where we're thinking about balking at that vision. And I think if we walk away from that vision, that a better city will not result."
The first of four public hearings on the comprehensive plan is tonight. You can also comment by emailing psc@portlandoregon.gov with "PSC Comprehensive Plan Testimony" in the subject line.
— The Real Estate Beat is a regular column. You can sign up to get an email of Real Estate Beat posts (and nothing else) here, or read past installments here. This sponsorship has opened up and we're looking for our next partner. If interested, please call Jonathan at (503) 706-8804.