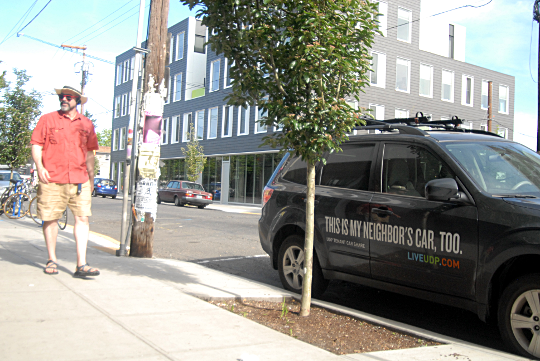 The shared car at 3330 SE Division Street is marketed to UDP residents but rentable by anyone.
(Photo by M.Andersen/BikePortland)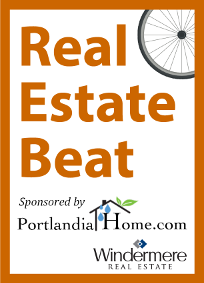 The local developer and landlord that in 2011 reintroduced zero-auto-parking-apartment buildings to the city after a 60-year absence is seeing success with another innovation: it's bought a car for its buildings' residents to share.
Urban Development Partners, whose Move the House Apartments project at 38th and Division inspired dozens of copycats around the city, says the car, a 2012 Subaru Forester that UDP has shared using the Getaround peer-to-peer carsharing service, is covering its own costs and seems to be helping motivate UDP tenants to give up their cars.
The car rents to anyone, whether or not they're a UDP tenant, for $5 per hour or $35 per day, plus gas and a $1 transaction fee. Just as other car-sharing companies such as Zipcar do, the developer pays the city a few hundred dollars per year for a reserved parking space directly in front of the 35-unit building at 3330 SE Division St.
UDP spokeswoman Neely Wells said this week that since the car went online last winter, three new tenants have said it was a "key reason" they chose the unit, and that four households that moved into the building with two cars have sold one of their two.
Wells says the company's goal is to free up parking spaces in a crowded neighborhood while providing an amenity that helps their tenants save money. One-bedrooms at 3330 SE Division average $1395. There are zero vacancies.
"We've always wanted to be in a high-transit area where people were using public transportation, walking, riding bikes," Wells said. "And we struggled for a couple years on how we could actually affect the number of cars in the neighborhood. … We feel the parking pain. our neighbors talk about it frequently. Our tenants talk about it. We're concerned on behalf of our retailers."
Wells said about 2/3 of the tenants at 3330 currently own cars.
Wells said Getaround's local manager, Steve Gutmann, was essential in making the deal happen.
"Steve was just phenomenal in figuring out what the hoops were," Wells said. "Our insurance agency was like, 'You can't do that. that's impossible. And then Getaround got on the phone and explained whatever it was they explained. and they said, 'OK!'"
Getaround is a California-based startup that essentially allows anyone to turn their car into a Zipcar. It makes money by collecting part of the cost of each transaction. Insurance is included in user fees, so a Getaround driver doesn't need to have outside insurance. The company launched in Portland in 2012 and currently offers the most shared vehicles of any local carsharing service.
Neely said UDP has marketed the car by offering a $25 voucher to tenants at move-in, by posting marketing materials in their Division Street buildings and inviting commercial tenants and their employees to use it, too. Neely said it currently gets reservations about four days a week, which is enough to cover its depreciation, maintenance and parking costs.
Across the street at 3360 Division, a new 30-unit UDP building that will open in August has already leased out all but seven of its units. Neely said it's possible that if tenants there use the car frequently, they might need to purchase another.
"It would be a huge success if eventually we needed a small group of vehicles," she said. "We care about the neighborhood and if we can think of a way to affect it positively, then our general answer is to do so."
— The Real Estate Beat is a weekly column sponsored by real estate broker Lyudmila Leissler of Portlandia Home/Windermere Real Estate. Let Mila help you find the best bike-friendly home.