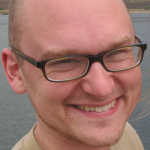 by Michael Andersen (Contributor) on April 4th, 2016 at 4:35 pm
"The trains will be so crowded that cyclists will be waiting to get into a train."
— TriMet spokeswoman Roberta Altstadt on MAX overcrowding during the project
Here's the good news: the badly worn pavement on NW 1st Avenue, an important but unpleasant biking connection to the Steel Bridge and Waterfront Park, is about to be fixed.
Here's the bad news: the repair project will snarl TriMet's entire light rail system for two weeks next month, cutting the frequency of every MAX line and leading to extremely crowded trains that will probably be unable to fit bikes.
That's why TriMet is urging people to avoid taking bikes on MAX during the repair work, May 8-21.