Wednesday, June 13th, 2012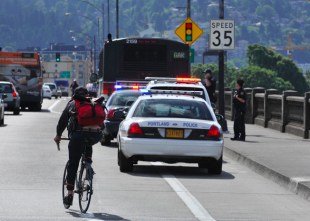 View of the bus and police vehicles
at the scene a few minutes ago.
(Photo © J. Maus)
Portland Police say at about 4:00 pm today, a man riding a bike westbound on Burnside pedaled right into the back of a TriMet bus.
The incident was first reported to me by a reader who called and then later emailed after she came up on the scene right after it happened. Here's the reader's recap:
"I was going east on the bridge and the accident occurred going west at about 4PM. Fire truck was just pulling up when we passed (we'd been sitting in stopped traffic for several minutes) and a police car was flying down Burnside toward the accident. Ambulance had yet to arrive. The rider was in his 30s maybe (?), reddish hair, black bike shorts, bike shoes...didn't see a helmet but that doesn't mean there wasn't one. Bike had white grip tape, was black with white lettering on it, road bike. The frame was creased in the center and standing up against the bridge railing. The cyclist was laying in the center of the right lane (lane closest to bridge sidewalk). The bus was pulled all the way over about 10 feet further up and a tri-met vehicle had pulled up hastily behind the cyclist with the door open (like someone jumped out super fast). Someone in a lime green SUV had blocked the bridge from traffic. Eveyone (tri-met supervisor and random people) were standing over the cyclist and he was conscious from what I could tell but he was laying flat on his back and not moving. People looked really freaked out and the cyclist looked like he was in shock."