Monday, July 15th, 2013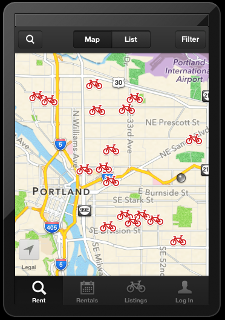 Bikes listed in Spinlister's mobile app.
A year-old service that lets you rent bikes from ordinary people has new ownership, a new iPhone app and quite a few bikes for rent in Portland.
For locals, the best thing about this service is that it's an easy way to track down the sort of bike (or bike accessory) that you might need occasionally. For example, here in town you can find a bakfiets cargo bike for $25 a day, a tallbike for $15 a day, a big bike trailer for $18 a day, a folding bike for $11 a day, a tandem for $25 a day, a two-bike hold-up rack for $25 a day and a Burley tag-a-long for $20 a day.
It's obviously of potential use to tourists, too.
The nice thing about Spinlister's iPhone app is that it autodetects your location, making it easier to locate the nearest bike or input the location of one you're preparing to list for rental to others. The startup promises an Android app to match in "fall 2013."