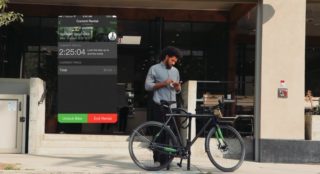 Will the bikes keep circulating?
PBOT thinks it's important that they do.
(Image: Screen grab from
Spinlister video
)
Fourth in our four-post series about bike sharing in Portland.
Portland's prospects for a public bike share system are looking as good as they ever have. Three of the city's five council members said Wednesday that they're excited to back a bike share deal, and a staffer for a fourth told us the proposal "looks great so far."
Meanwhile, a different launch still seems to be in the works: a completely private bike-sharing system, a new product scheduled to be tested here in Portland by the peer-to-peer bike rental firm Spinlister.