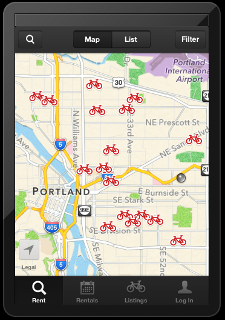 Bikes listed in Spinlister's mobile app.
A year-old service that lets you rent bikes from ordinary people has new ownership, a new iPhone app and quite a few bikes for rent in Portland.
For locals, the best thing about this service is that it's an easy way to track down the sort of bike (or bike accessory) that you might need occasionally. For example, here in town you can find a bakfiets cargo bike for $25 a day, a tallbike for $15 a day, a big bike trailer for $18 a day, a folding bike for $11 a day, a tandem for $25 a day, a two-bike hold-up rack for $25 a day and a Burley tag-a-long for $20 a day.
It's obviously of potential use to tourists, too.
The nice thing about Spinlister's iPhone app is that it autodetects your location, making it easier to locate the nearest bike or input the location of one you're preparing to list for rental to others. The startup promises an Android app to match in "fall 2013."
To protect against theft, Spinlister uses "a system of reviews, Facebook Connect, and renter credit cards on file."
This is a business model that Getaround and RelayRides are pursuing for cars and Airbnb provides for spare bedrooms. It's got similar potential for bikes: saving everybody money by helping us all make the most of bikes that aren't being used 100 percent of the time. But the New York-based startup seems to have struggled, ranaming itself "Liquid" in an apparent attempt to diversify into helping people share other things before going back to "Spinlister" under the new direction of one of its board members. TechCruch has more on the corporate backstory.
Spinlister makes money by collecting a 17.5 percent cut of each transaction, in exchange for helping the parties find each other. One of the keys to this sort of service is that the more people use it, the more value it has. If you've got a bike sitting around, you've got little to lose by listing it — and just doing so will increase the chance that this idea is able to take root.