Posted by Jonathan Maus (Publisher/Editor) on January 28th, 2015 at 1:29 pm
Spinlister CEO Marcelo Loureiro (L) and CMO Andrew Batey in Portland earlier this month.
(Photo by J. Maus/BikePortland)
Portland is the market Spinlister could no longer ignore.

Even though the peer-to-peer bike rental service (think Airbnb for bikes) hasn't officially launched here, the leaders of the company say they're "baffled" by how popular it already is. Spinlister CEO Marcelo Loureiro and CMO Andrew Batey have been laying groundwork here for months now with an eye toward 2015 being the year Portland becomes one of their focus cities alongside New York City, Austin, Los Angeles and San Francisco.
"It baffles me that we have so many bikes here in Portland — with no push from us whatsoever. We didn't really embrace Portland, Portland embraced us. They demanded we come here."
— Andrew Batey, Spinlister CMO
The strategy marks important growth for a company that just a few years almost didn't exist. After launching in 2012 to much fanfare, the company failed to attract investors and ended up having to "pivot" (in tech parlance) to a new strategy. The original founders changed the name to Liquid to reflect their plans to become the "liquid marketplace" for all types of shareable items, but the venture capital crowd wasn't impressed and the entire platform was shut down in January 2013.
But Loureiro, a 47-year old Brazilian-born entrepreneur believed in the bike-rental model. He was one of the original investors, and when things got dicey in 2013 he stepped up and grabbed the reins of the company, re-branded it, and began to rebuild. During a meeting at a coffee shop in northwest Portland earlier this month, he seemed to relish the headlines from those days that proclaimed, "Spinlister is back from the dead!"
With 2013 written off as a "learning year," Marcelo and his team spent 2014 focused on the New York City market and built an impressive amount of inventory (bikes listed) and demand (people to rent them) — the two key components of their business model. Last summer Spinlister built an inventory of 2,000 bikes in Brooklyn alone.
Now they've set their sights on Portland.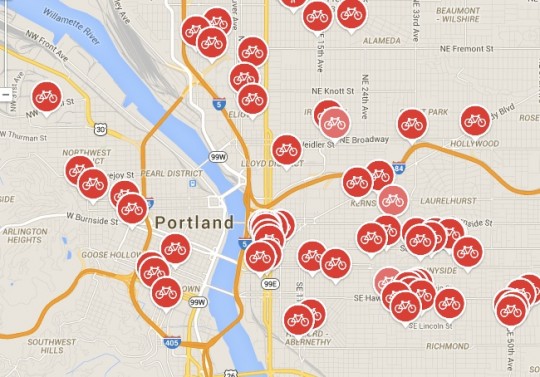 Lots more red dots coming soon.
In 2012, there were only two bikes in Portland available for rent on Spinlister. Today there about 200. The company has high expectations for Portland and expects that number to reach "a few thousand" by the end of the summer.
Batey, who leads the company's marketing efforts, said, "It baffles me that we have so many bikes here in Portland — with no push from us whatsoever. We didn't really embrace Portland, Portland embraced us. They demanded we come here."
The attraction is obvious. Spinlister helps connect people with bikes to loan with people who need a bike to ride. Listers can make extra cash and renters can find a perfect bike, whether they need something to haul groceries or haul up the steep West Hills for the view atop Council Crest.
Earlier this month Spinlister hosted a meet-up event in Portland for listers to learn more about the service. "We usually have about five or six people at those events," Batey said. "We had 30 people! And they came early, left late, had engaging discussions and asked really in-depth questions we just don't hear in other places."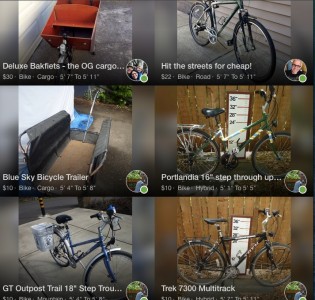 Sample of local listings.
Loureiro noticed something different in Portland too. "We have a lower amount listings in Portland, but the number of requests that are fulfilled is amazing. It's the highest in our entire system. The amount of community engagement here is off the charts."
Spinlister says their business is about much more than just renting a bike. They talk about how their listers are like civic ambassadors who not only hand over a bike to renters, but often dole out restaurant advice, tips on where to ride, and in Portland, sometimes even care packages. Loureiro and Batey, who are based in Santa Monica, California, rent bikes themselves whenever they're in a new city. In Portland, Loureiro struck up a conversation with a woman he rented from: "She ended up telling me she was a sales rep for a kombucha company… So she gave me a case of kombucha!"
Loureiro says renting a bike through Spinlister gives you a "local connection" (90 percent of their users are visiting from another city). And the system vets each party before any transaction takes place. Both the lister and the renter usually exchange several emails or texts (the app has its own chat function) before the handover happens.
With just a few hundred listings in Portland so far, the company has their work cut out. Similar to bike-share, Spinlister's model needs a minimum level of inventory density and demand before it can really take off. Since they've been in Portland, Batey and Loureiro have struck deals with the Bicycle Transportation Alliance, the City of Portland Parks & Recreation Bureau, and Bike Index.
Expect to see Spinlister working the crowds at over 80 city events this summer. And in a deal announced today, if you list a stolen bike on BikeIndex.org you'll get a $30 credit toward a rental on Spinlister.
To manage partnerships and customer service issues, Spinlister hires a full-time City Manager in each place they operate. They also partner with bike shops (they'll probably have one in each Portland quadrant) to offer users a place to get bikes fixed and to facilitate rental drop-offs and pick-ups. Some shops even use Spinlister as their de-facto rental department, leaning on the reach of their app and website and even piggybacking on their insurance policy.
Basically, Spinlister will go to just about any lengths to get more bikes listed. Batey said that currently about 46 percent of requests for bikes that come into Spinlister go unfilled. And beyond what's already in his system, Batey says there are about 272 million bikes sitting in American garages right now, not being used.
"It's all about getting that density so you find your ideal bike option anywhere in the city," Batey says.
Unlike bike share, which focuses on last-mile and more utilitarian "A to B" trips (and comes with the sluggish, uninspiring bikes to match), Batey likes to think Spinlister is more of a "lifestyle brand." "Our renters usually purchase multiple days and they'll hit up the 40-mile loop, take the kids out, go to a park. It's like having their own bike for three days, so they want a bike that expresses who they are… they want to go freely about the city and feel like they're at home."
And just like other sharing-economy companies, there is a financial attraction to getting involved. It's free to list a bike and the average daily rental is $20 (of which 17.5 percent goes to Spinlister). An active user with a few bikes listed can earn $200-$300 per month. "That's enough to pay off a high-end bike," says Loureiro.
Jonathan Maus is BikePortland's editor, publisher and founder. Contact him at @jonathan_maus on Twitter, via email at maus.jonathan@gmail.com, or phone/text at 503-706-8804. Also, if you read and appreciate this site, Jonathan hopes you'll become a supporter.