Monday, September 15th, 2014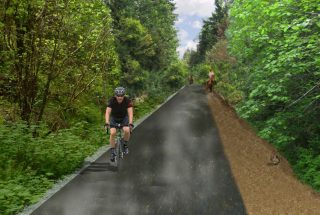 Coming (hopefully) sooner rather than later!
The Salmonberry Corridor project is moving ahead with as much steam as the Southern Pacific railroad cars that used to rumble through it in the early 1900s.
The project aims to re-open the derelict, 86-mile rail corridor to recreational use. When complete, it will connect the existing Banks-Vernonia rail-trail with the city of Tillamook on the Oregon Coast via a combination of paved and natural surface paths. Amazing huh?
You might recall our story back in June that teased a few of the potential design concepts being drawn up by project consultants. Now, as of last week, the Oregon Parks and Recreation Department has released the Salmonberry Corridor Draft Concept Plan (PDF, 44MB). (more…)