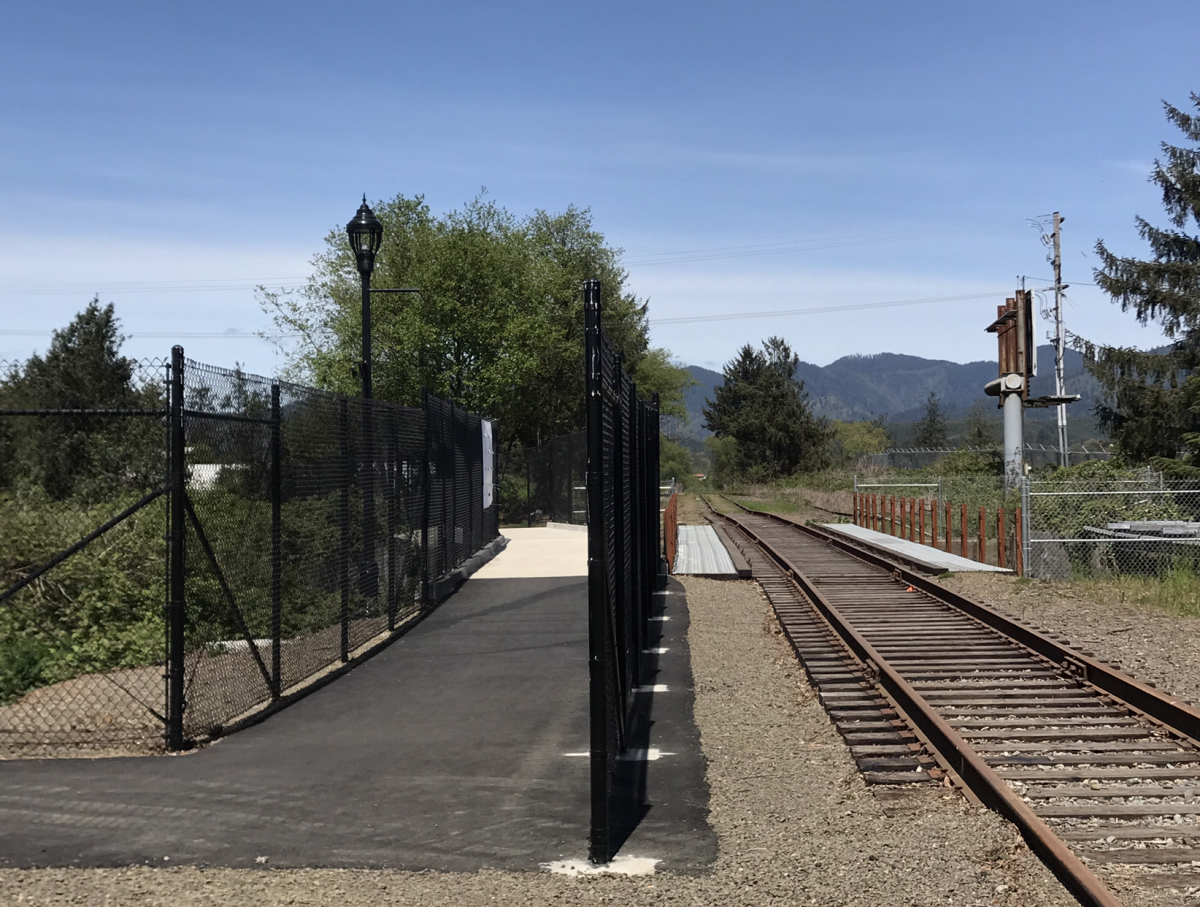 After 10 years operating mostly in the shadows, the Salmonberry Trail is ready to move into the spotlight.
For the first time since murmurs of the 86-mile trail between Washington County and the Oregon Coast began, the project has a nonprofit with a full-time leader standing firmly behind it. I recently sat down with Salmonberry Trail Foundation Executive Director Alana Kambury to learn more about her and what her work means for this exciting project.
While some assume a project of this scope will take decades to bear fruit, Kambury sees it differently. "Our goal is to increase the velocity of this project," she said. And there's reason for optimism. The first piece of the trail has already been built and there's an event today (June 14th) on the Banks-Vernonia Trail to commemorate the start of a major upgrade to the Manning Trailhead — a project that was triggered by enthusiasm for the Salmonberry and will ultimately mark the eastern trailhead.
It was just 12 years ago when the Port of Tillamook Bay opted to let their rail line be overtaken by the forest. After severe storms damaged sections of the line in 2007, the Port made the decision to not repair it. Two years later, trail advocates came together to map out a different future for the rail line.
"Everybody has their plans to go to Crater Lake. They could have their plans to go walk or ride or bike the Salmonberry."
— Alana Kambury
They formed the Salmonberry Trail Intergovernmental Agency (STIA), a group co-convened by Oregon Parks and Recreation and Oregon Department of Forestry. Their vision included an 86-mile trail from Banks to Tillamook — with 22 miles along Highway 101 on the Oregon Coast — that would become a world-class destination.
"Everybody has their plans to go to Crater Lake," Kambury shared during our conversation outside her office in the Pearl District, "They could have their plans to go walk or ride or bike the Salmonberry."
Just last year, STIA signed a lease with the Port of Tillamook Bay that gives them the right to develop the trail. This agreement is significant because it allows advocates to develop detailed master plans for each trail segment. Another big step that happened last year was the completion of an economic and health impact analysis. Kambury says they expect a $20 million per year boost to local communities. The trail will attract people interested in all types of activities; from trail-running and hiking, to riding horses and bicycles.
But Kambury is quick to point out that much of the current momentum revolves around more utilitarian uses. "Communities along the coast are very excited and motivated for the trail because they see opportunities for things like Safe Routes to School… The trail can look like many different things, like a tourist thoroughfare, but it can also be how kids and families get to school safely. I've seen mothers with strollers on Highway 101 and it's terrifying. We want to provide a safe bike route on that stretch."
Nearly everyone who looks at the future of the Salmonberry sees something different. It will be Kambury's job to manage all those visions — then raise the money and build the relationships it will take to turn them into reality. Her Salmonberry Trail Foundation will play the lead role. The organization is in its infancy and its nonprofit status is still pending IRS approval; but Kambury is already going full steam ahead. She's already found most of the board members and is building the infrastructure to accept individual memberships. The first priority will be to build capacity to go after major funding opportunities. Kambury was coy about details, but said there could be a "significant amount of money" coming into the organization next year.
"The Trail could take 8 to 10 to 15 years to build out, depending on when funding comes in, but in that time, we'll see parts of the trail open up," she said. "There are specific opportunities we're keeping our eye on that donors both public and private have encouraged us to have on our radar… "
Donors, government agencies, cities, counties, state legislators — Kambury says she's heard from all of them.
To Kambury, this 100-year-old railroad line could not be more relevant or necessary today. She talks about how it can heal divisions and take down barriers. "I think we need a project like this now because it builds connections between urban and rural, and we're at at time of really looking at diversity and inclusion and the past mistakes we've made in outdoor recreation… How do we build this trail with everybody in mind? What do we build in for outreach and programming — even just the design of the trail — so it's relevant and approachable to everyone?"
A popular misconception about the trail is that it's only for extreme adventurers. "This is not some crazy wilderness," Kambury said. "We're not asking people to through-hike. This isn't the Oregon Timber Trail or PCT [Pacific Crest Trail]." A stronger comparison would be the Crown-Zellerbach Trail in Scappoose that attracts everything from weekend warriors from Portland and locals who want a quick nature getaway.
Asked what she sees as the biggest challenge, Kambury said the project is often misunderstood. "It's such a big vision," she said. "We're working hard to keep people informed, but it takes on-the-ground time with communities on the trail." As with any major trail project, there are bound to be some people who worry that increased public access will lead to a decrease in privacy. The trail right-of-way (which the Salmonberry Trail Foundation has a legal right to develop) literally runs through peoples' backyards. Kambury is well aware of the sensitivities around this. "Of course there are some concerns with having a recreational use that local communities aren't familiar with come through their backyard," she said when I asked if the trail had any opposition. "People moved to rural areas for a reason, we want to respect that."
To tamp down concerns, Kambury won't just tell local residents what the trail can do for visitors; but also what it can do for them. "We are asking people what they need in their own communities and how can we build a trail that respects their lifestyle, while showing them this is something that will benefit them directly, even if they don't want to be the person who builds a business that serves it."
Tillamook Creamery is a lynchpin in the trail's development. It's by far the largest and highest-profile business on the route, serves as its southern terminus, and the company's Director of Engineering Jack Mulder is on the Salmonberry Trail Foundation and STIA Board. The famous cheese and ice cream maker is currently discussing how to build a section of the trail along their property in a way that benefits both employees and tourists.
When it comes to negotiating with agricultural-based businesses, Kambury has a leg up. A native Oregonian who grew up in Portland and Ashland, she started Starvation Alley Cranberry Farm in 2014 after earning her MBA from Bainbridge Graduate Institute. "I love working with the agriculture community. I love the dedication and commitment it takes to work in natural resources and agriculture, the pride that comes with it, how it gets you out into the environment."
Kambury is optimistic, but she's no Pollyanna. She understands the cultural differences between rural and urban communities. "I don't think conflict is a bad thing," she said. "I think if we disagree on things but find something we can work together on; I think it will bring us together in a time when that's really important. Our politics aside, anyone can benefit from just being outside. And Oregon is the prettiest place to be outside."
To practice what she preaches, Kambury will lead two upcoming rides: Today at 2:00 pm she'll attend the ribbon-cutting for the recently improved Manning Trailhead on the Banks-Vernonia Trail and then ride with attendees on a seven-mile ride. Then on June 27th, she'll lead the MAX to Manning Pedalpalooza ride, a 40-mile out-and-back from Hillsboro.
— Jonathan Maus: (503) 706-8804, @jonathan_maus on Twitter and jonathan@bikeportland.org
Never miss a story. Sign-up for the daily BP Headlines email.
BikePortland needs your support.