Monday, March 11th, 2013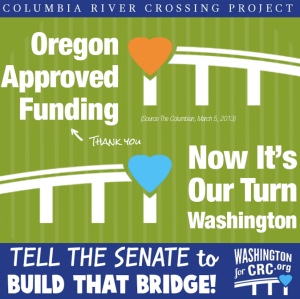 Graphic from Washington For CRC on Facebook.
If reports on Twitter are to be trusted, Oregon Governor John Kitzhaber is all set to sign The CRC Bill (HB 2800) into law on Tuesday. While that's no surprise, there are a few other items related to the Columbia River Crossing project that have recently caught our eye.
— A reader has tipped us off to WashingtonForCRC.org and what looks like a classic astroturf campaign. And by that I mean a corporate PR effort made to seem like an organic, grassroots lobbying effort. Now that Oregon has effectively signed-off on it, it looks like the pushers of this controversial mega-project have wasted no time trying to improve public sentiment on other side of the river. It's a smart move, given that if the project's outlook doesn't improve in Washington soon, it won't move forward. WashingtonForCRC.org comes complete with a super-slick website listing "facts" about the project (which are taken directly from paid CRC consultants' talking points), an active Facebook and Twitter presence, and even a cute logo of a bridge with a heart on it. (more...)