Posted by Jonathan Maus (Publisher/Editor) on September 5th, 2014 at 1:24 pm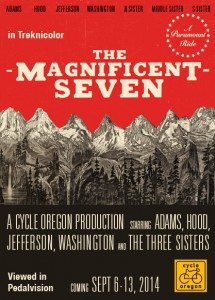 This year's ride poster.
Something about eastern Oregon keeps calling me back.
In the past six months I've made three trips east of the Cascades and tomorrow I'll shove off for yet another one: the Cycle Oregon Week Ride.
The first two trips I took to the place known as "Oregon's dry side" were for work: a reporting/riding excursion in The Dalles in March and a trip to Treo Bike Ranch in July. Through my bike adventures and people I met along the way, I've learned that the towns and roads in this region have so much to offer I wanted to share them with my family. So, over the long long Labor Day weekend I packed up our mini-van and took my wife Juli and three kids on a camping/road trip. We drove out to the Gorge, stopped in The Dalles, then went south into Heppner, the John Day River Valley, and then looped back up through Fossil, Maupin, Dufur, and then back to the Gorge. It was fantastic.

[more...]