by Michael Andersen (Contributor) on August 11th, 2015 at 4:44 pm
Though it's a shame that the creators of this image seem to have been unaware of the existence of Couch Street's bike lane, they do seem to be enthusiastic about serving people who arrive by bike.
(Image: Key Development)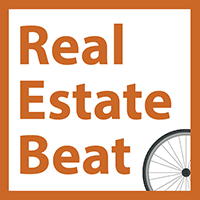 In the latest burst of bike-oriented development on the Burnside Bridgehead, a developer is considering turning the tables on all those drive-through windows that allow cars but not bikes.
Key Development has proposed a 20,000-square-foot, $7 million commercial building on the space immediately west of Couch Street's southward curve towards the Burnside Bridge. Currently in design review, the project would include a bike-oriented retail plaza, possibly with a bike-through window.
It might also function as a sort of annex that'd create easy bridge-level bike access to residents of the big 21-story tower that's now in construction right behind it.