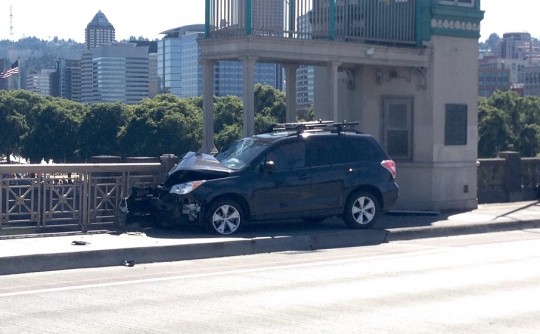 Aftermath of man who lost control and drove his car up onto the sidewalk.
(Photo: Portland Police Bureau)
Enough is enough.
A man lost control of his Subaru Forester SUV while driving eastbound on the Burnside Bridge Sunday afternoon. He swerved across the lanes and hit two people who were walking on the sidewalk.

35-year-old Bridget Larrabee was seriously injured and her friend Ben Carlson, 36, died at a hospital a few hours later. Carlson and Larrabee lived together in northeast Portland. The man behind the wheel of the SUV was 59-year-old Beaverton resident Douglas Walker. The police originally said he suffered a medical incident and KGW just reported that he apparently "choked on some soda." Walker remained at the scene after the collision and was released shortly after.
Enough is enough. Now is the time for the City of Portland and City Council to act. No more proclamations or promises, just actions. Get out there and do something before another innocent person is hurt or killed.
We have known for years that the Burnside Bridge needs a physically protected space for people to walk and bike. Currently it is very wide and functions like an urban highway while also serving as a popular bike/walk route. Despite it's proximity to downtown, vital importance in our bike network, and ample unused road space, for some reason the Burnside Bridge has only a standard bike lane.
Back in 2012 I was part of a team of local planners and designers that participated in GOOD Magazine's Ideas for Cities project. Our entry focused on a simple concept: to make bicycling as safe and easy as driving or taking transit. We envisioned a system of protected lanes across the city — including one on the Burnside Bridge.
Here's a mock design we shared (Please note: This is just a concept. We are well aware that plastic wands would not have prevented Sunday's collision. The idea is that we need to design physically separated space on the bridge and there is ample room to do it. The details of the design can be easily worked out):
And here's an excerpt of the narrative I wrote to go along with our presentation:
"Contrary to popular belief, bicycling in Portland isn't all unicorns and rainbows. Cars still dominate the streetscape. In fact, there isn't a single A-to-B route in this city that has the type of dedicated, connected, safe, easy-to-use facilities like we provide for motor vehicles and transit.

There is no mystery here. To encourage ridership and prevent collisions, we must separate motor vehicle and bicycle traffic…

We don't lack the knowledge to do this, we lack the political will."
That was three years ago. Today the solution is still just as easy and cost-effective, but I'm sad to say that we still lack the political will.
The reality is this: If we had physically protected space on the Burnside Bridge, there is a very good chance Ben Carlson would be alive today and Douglas Walker wouldn't have to live with the sadness and guilt that will plague him for the rest of his life.
This isn't about "bike infrastructure," this isn't about who's at fault, this isn't about budgets, this isn't about excuses: This is about being a great city. Great cities do not have dangerous streets like Burnside running right through them. Great leaders do not sit back and only form committees, sign pledges, and hire more planning consultants while innocent people are hurt and killed — over and over and over again.
The community has done everything Mayor Hales could ask for. We have taken action on the streets and in City Hall. Now it's time for the City to match that action. I realize some baby steps have been initiated; but we need concrete steps taken immediately.
Speaking of concrete… I know there are a bunch of concrete jersey barriers sitting in a maintenance yard somewhere. Let's get them out on the bridge! Now! Let this immediate action serve as a tangible symbol that Mayor Hales, County Chair Deborah Kafoury (the County owns and manages the bridge), and PBOT Commissioner Steve Novick truly care about the health of their constituents.
What's the alternative? Do we have to wait until more people die? Do we have to wait until the victim is a family member or close friend of a City Council member? I hope not. Not if Portland is a great city.
Stay tuned. We are eager to report on the upcoming actions and bold leadership of our local elected officials.
— BikeLoudPDX will lead a memorial walk, ride and protest tonight at 5:00 pm on the Burnside Bridge. Facebook event details here.