"I'd like to see a bridge for our future… but it will take visionary leadership from county, and I haven't seen that yet."
— Mark Ginsberg, advisory committee member representing The Street Trust
Multnomah County has reached a milestone in their project to make the Burnside Bridge "earthquake ready". They've whittled down a list of 100 options to just two: an "enhanced seismic retrofit" or a full replacement.
The Burnside is a designated "lifeline response route" which means it has special priority when it comes to disaster and long-range resiliency planning. Owned and operated by Multnomah County, the bridge is nearly 100 years old and it shows many signs of age. A separate maintenance project is going on now.
We've been watching the Earthquake Ready Burnside Bridge project from afar until this point. With the options narrowed down, the County will now delve more deeply into each one of them in order to determine the future of the bridge.
Here's where the process stands today…


According to an announcement yesterday, at this point the plan is to either strengthen the existing bridge to withstand a major earthquake and replace the section that goes over I-5 and the railroad, or replace the entire bridge with a fixed bridge, a movable bridge, twin bridges, or a tunnel.
These two remaining options will now be further evaluated based on the following six categories:
Seismic Resiliency
Does the option support reliable and rapid emergency response after an earthquake?

Non-Motorized Transportation
Does the option support access and safety for bicyclists, pedestrians, and people with disabilities?

Connectivity
Does the option support street system integration and function for all modes?

Equity
Does the option minimize adverse impacts to historically marginalized communities and promote transportation equity?

Built Environment
Does the option minimize adverse impacts to existing land use as well as parks and historic resources?

Financial Stewardship
Does the option ensure public funds are invested wisely?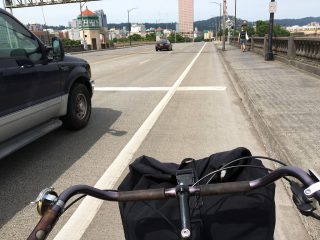 As you can see, things are starting to get interesting.
This coming spring the County and their volunteer advisory committee will make the final decisions about these two remaining options and by this summer a report will be up for adoption by the Multnomah County Commission.
Bike advocate and lawyer Mark Ginsberg sits on the committee as a representative for The Street Trust. He told us via email this morning that he's not impressed with the process so far. "I am disappointed in the lack of diversity on the committee," he wrote. "When setting up the stakeholders only OPAL [an environmental justice nonprofit] was asked to join, when they said it was outside of what they do, no other group bringing minority voices to the table were sought."
And Ginsberg says he's concerned the project will be a "lost opportunity for three generations." "It seems like what we are being presented with is not looking a forward thinking multi-modal plan… We have the chance to make this a world class accessible facility for all of out street users, for wheelchairs, bikes, pedestrians, mass transit and private automobiles, while meeting the needs of water access below, but it seems like we're just doing more of the same. I'd like to see a bridge for our future, a resilient, safe usable bridge, and it is possible, but it will take visionary leadership from county, and I haven't seen that yet."
County spokesman Mike Pullen says whatever comes out of this process won't be built for another 12 years because it would still have to get planned, designed, funded, and built; but as savvy activists know, decisions made in these early stages will influence the outcome.
And don't despair if you want better biking on the Burnside in the shorter-term. Pullen says there are other projects in the pipeline that could result in changes to the existing bike lanes.
The County is on the radar of the City of Portland's Central City in Motion (CCIM) project. The Burnside Bridge is listed as an "essential link" in the CCIM's early planning documents, a designation that could result in an upgrade to its bikeway sooner rather than later. And if that project doesn't net improvements for the bridge, Pullen says the County is actively seeking funding for a list Capital Improvement Projects — one of which would add a buffer zone and delineator posts to the bike lanes. If the County finds funding for that project it would happen after the current maintenance work is completed in late 2019.
— Jonathan Maus: (503) 706-8804, @jonathan_maus on Twitter and jonathan@bikeportland.org
Never miss a story. Sign-up for the daily BP Headlines email.
BikePortland needs your support.