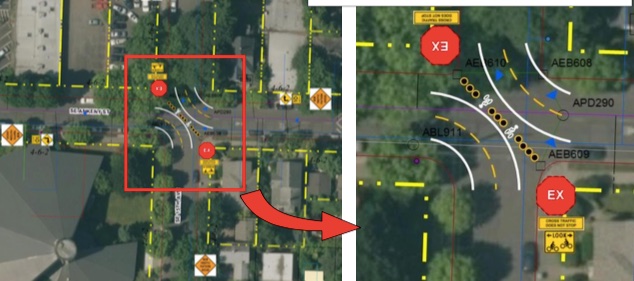 Portland's mission to upgrade its first-generation bike boulevards into lower-stress neighborhood greenways is continuing.

With the trial diverters on Clinton Street's neighborhood greenway in place working pretty well to control traffic volumes there, the city is now looking to reduce auto speeds and volumes on another important bikeway identified last year as being uncomfortable for people of all ages to bike on: Southeast Ankeny.
"As part of the proposed improvements, nine speedbumps will be installed, two speedbumps will be removed, a traffic diverter will be installed at 15th Avenue, and six stop signs will be re-oriented on Ash and Pine Streets," the city says.
We reported last month that the city was rebooting this project. It'll be the first significant project for a new city engineer dedicated to small, flexible upgrades like this one.
The goal is to preserve car access to all points on Ankeny while preventing people from simply using Ankeny as a primary auto travel route during rush hour.
The city will discuss those proposals at an open house next week at Buckman Arts Focus Elementary School, 320 SE 16th Ave., from 6-7:30 p.m. on Wednesday, April 27.
There's also an online survey intended for people who either live or do business on Ankeny Street in the "project area" between 13th and 27th avenues. You can read more about the project on the city's website.
Correction 2 pm: An earlier version of this post gave the wrong time for tonight's open house.
— Michael Andersen, (503) 333-7824 – michael@bikeportland.org
Our work is supported by subscribers. Please become one today.