2016 will be a very important year for the future of Portland biking.
Start with the mayoral election, a possible commissioner change, public gas tax vote and new state transportation funding talks. Throw in major decisions about off-road cycling access and a possible fight with TriMet over Metro money. Consider major progress brewing for the North Portland Greenway from Kelley Point to the Rose Quarter. Consider bike sharing — public and maybe private too. Consider decisions about wide or protected new bike lanes on outer Powell, outer Division and maybe even outer Barbur. Consider plans for our first permanent downtown protected bike lane. Consider a possible program that would add diverters to neighborhood greenways.
All of that is headed straight this way at full speed.
Honestly, from one Portlander to another: every single one of those things could come out either way.
But as the sun turns its corner and winter slowly starts to warm, Portland bike believers have a lot of reasons to be optimistic about the year to come. Here are a few.
1) Bike sharing is probably going to work
In the years that Portland has hemmed and hawed over how to spend a $2 million federal allocation, we've learned something pretty useful.
Bike sharing works. It just does.
It works in 600 cities around the world, including Indianapolis, Houston, Milwaukee and Salt Lake City. Here's the big secret: bike share is really cheap. Compared to almost any comparably sized service a city can provide, bike sharing costs almost nothing, because so much of the money comes from users and sponsors.
Yes, Portland's probably needs to expand to succeed, and probably needs a major sponsor to expand. It will probably find one. Virtually every large system does.
Bike sharing still has plenty of problems, but the main question is answered: it works. It makes public transit better, it gets people who rarely bike to try it out, and it gets everyone on the road thinking a little more like a bike rider.
All of that is why advocates for biking have been so excited about it for years. In 2016, we'll see it start to happen.
2) Central Portland is filling up with change agents
Are all new Portlanders awesome? No. Much like old Portlanders, they are not all awesome. And (again, like most of us) they're definitely not all consciously political about transportation.
But they do have one thing in common: they voluntarily moved to a place that very obviously does not prioritize automotive speed above all else.
The huge number of new Portlanders — 55,000 of us, or 9 percent of the population, moved from another county or abroad in the last year alone — is one of our biggest challenges. But it might also be the best thing we've got going. Despite its huge downsides, our constant population churn self-selects people who mostly like the way things are going here and the general path we're on. Portland is a long way from perfect, but the new civic generation of people filling in our crop of boxy, bikey apartment buildings is landing in the middle of a city where bike-based lifestyles make sense. They're already voting for that with wallets. This year, they'll vote with ballots too.
3) Better Block is going big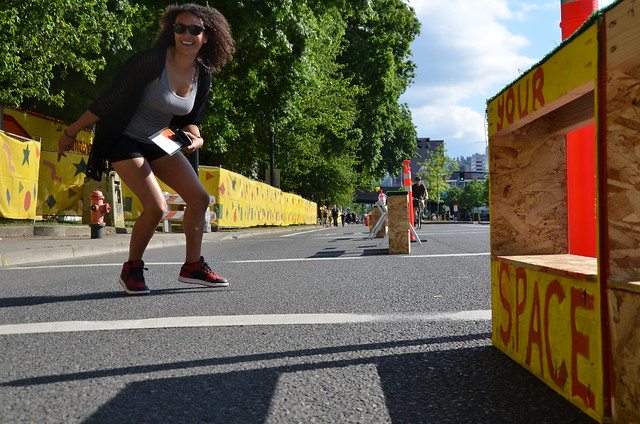 Last month we learned that Better Block PDX, the group of dynamic street transformers whose work last year gave downtown Portland its first new bike lane in years, is scaling up and spreading out.
This news could hardly be better. Dozens of organizations around Portland would love to do for their area what Better Block volunteers have done for Waterfront Park, Old Town, SW Stark Street and SE Clinton Street: shown how much social and economic energy shows up when you weaken the automotive monopoly on most of our public space. If our local incarnation of Better Block can become a friendly partner with Portland's diversity of neighborhood groups and with its city planners, it could change the way Portland thinks about change. If it can embed its ideas at Portland State University as its organizers hope, it could help change the way planners around the country do.
4) Our closest neighbor seems to be doing everything right
If Seattle were selling shares in its future, I'd be buying. In the last two years it's notched success after success: a new bike plan, a bike-sharing system, an open-streets festival, a neighborhood greenway network, an internal goal to add seven miles of protected bike lanes in a year. In November, it approved a huge transportation levy that'll add many miles of new protected or buffered bike lanes and neighborhood greenways, not to mention dedicated bus lanes and sidewalk fixes. This is the dream Portland has been chasing for years but has so far failed to find.
Seattle also elected a city council even more pro-bike and urbanist than the previous one, which seems likely to approve some sort of "grand bargain" to simultaneously allow more housing infill and more money for affordable housing. And it approved a new system designed to level the campaign-finance playing field by sending $100 in "democracy vouchers" to every Seattle voter, to be contributed to local campaigns.
Are we jealous? Obviously. But if we could wish those victories on any other city, it'd be the one that Portland most resembles and the one Portlanders are most likely to visit. These decisions are going to be great for Seattle over the year and decade to come. Portland will have a front-row seat, and that'll be good for us.
5) The Portland Bureau of Transformation looks pretty interesting
First cones DEPLOYED! Find them; enjoy them. pic.twitter.com/4RgpXWm2Wa

— PDX Transformation (@PBOTrans) December 30, 2015
Last week's traffic cone stunt might turn out to be a one-time gag, but it doesn't look like it. Whoever the Portland Bureau of Transformation is or are, this New York-inspired group isn't creating working infrastructure; obviously it's a little more complicated than this. But in a city where conflict aversion sometimes becomes fear of one's own tail, this does not really have to be that hard is exactly the argument more of Portland needs to be exposed to.
You might notice something about this list: Most of this good news is about good ideas that Portland is importing from other places. That's a great sign. One of Portland's challenges, especially in its political class, is the notion that Portland doesn't need to look elsewhere for ideas. That's never been true. Our most out-there ideas (surface rail built with freeway money, a riverside bike path beneath a freeway, a new streetcar line through a run-down warehouse district, a citywide network of bike-friendly side streets) were all inspired by successes elsewhere.
Portland has never had a history of actual invention. It's had a history of well-executed theft. Let's keep that up in 2016.
— Michael Andersen, (503) 333-7824 – michael@bikeportland.org
Michael Andersen was news editor of BikePortland.org from 2013 to 2016 and still pops up occasionally.