The City of Portland has enhanced the bikeway on SW 13th at SW Clay Street. The existing bicycle only lane which runs on the right of the one-way street, has been beefed up as it approaches the intersection. Now instead of just one stripe of paint to separate bicycle and motor vehicle operators, PBOT has added a buffer zone and five flexible plastic "candlestick" wands (also called delineators).

"There was some conflict happening there. And we think we can make a big difference with a small amount of money."
— Dylan Rivera, PBOT
City spokesman Dylan Rivera says this small project cost just $2,000 and it came out of the bureau of transportation's "missing links" budget. That small pot of funds (about $50-100,000 annually) is set aside for fixes to bike network gaps.
SW 13th in this location has four lanes: one auto parking lane, two standard lanes, and a bike-only lane. Because SW Clay is an on-ramp to Highway 26 (westbound), many people who come onto 13th were using the bike lane as a right turn lane. Either that, or people in cars would encroach into the bike lane prior to Clay in anticipation of getting on the highway.
Below is a Google streetview image from July 2015 that shows this encroachment…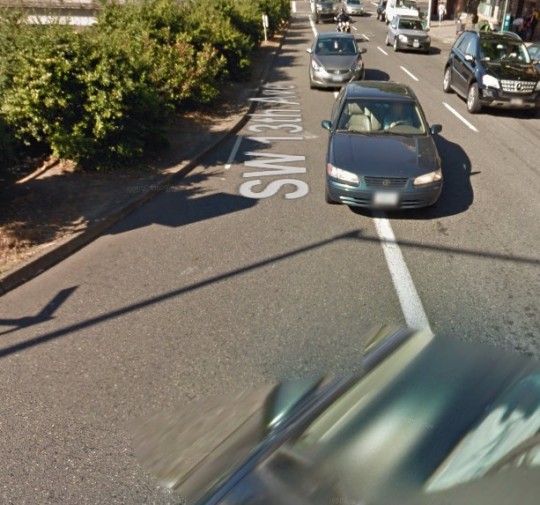 Rivera said the problem was flagged by a member of PBOT's Traffic Safety Coordination Council, a group made up of advocates, volunteers, and city and other regional agency staff that meets each quarter in City Hall.
After hearing the suggestion, PBOT agreed something needed to be done. "There was some conflict happening there," Rivera said via a phone interview last week. "And we think we can make a big difference with a small amount of money."
Rivera added that the plastic delineators (which stand four feet high) and painted hash marks are spaced more closely together as you approach Clay. "What that does is give the motorist the perception that they're going faster and that they need to slow down."
@PBOTinfo pioneers better protection near Jefferson & 14th. Safety doesnt have to have a presidential price tag. pic.twitter.com/5fQvKXStUW

— Timur Ender (@timurender1) December 28, 2015
After seeing this first posted by Commissioner Steve Novick's transportation policy advisor Timur Ender on twitter on December 28th, I went out to see it for myself.
I'm a fan of using these plastic delineators, but PBOT seems to have still not learned how to keep them in the ground. Remember the debacle when these where installed on the NW Lovejoy ramp off the Braodway Bridge east of 9th? They were supposed to help separate bicycle and auto traffic, but they were repeatedly ripped out by people who hit them with their cars and PBOT eventually gave up on them.
One of the new delineators installed on Clay met the same fate less than 24 hours after it was installed. (I was out there last week so I'm not sure how many still remain standing). If the posts stay in place, this project should be a great improvement. While I was there, people seemed to slow way down before turning, and no one entered the bike lane prior to the intersection.
In addition to the striping and delineators, PBOT has added some green caution color to the bike lane in the intersection and a sign that warns people who are turning to yield to people on bikes. Below is PBOT's plan drawings of the intersection…
Rivera and Ender are right: these little projects have tiny price tags but yield big benefits for our network. We need to do a lot more of them. In fact, Ender told us he'd be happy to see a list of other intersections where this type of fix is needed. Let's hear your ideas. I'll forward to the list to Ender and hopefully we can fix more intersections soon.
— Jonathan Maus, (503) 706-8804 – jonathan@bikeportland.org