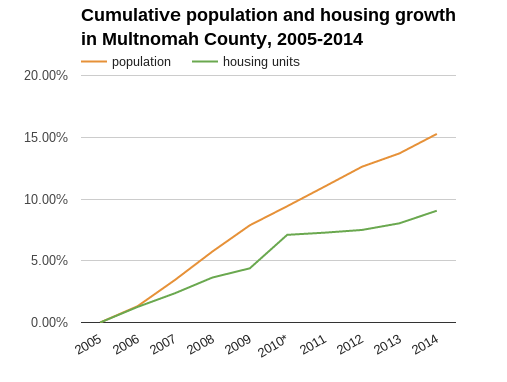 *2010 housing figures reflect an upward readjustment from information gathered in the decennial Census.
(Data:
Census Bureau
, summarized
here
)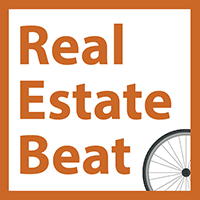 After eight years of failing to add housing units nearly as fast as new residents were arriving, Multnomah County nearly kept pace in 2014, according to Census estimates released Thursday.
The shortfall in new units since 2005 has led to the country's worst chronic shortage of rental housing in the most desirable parts of Portland as residents have competed for the largely unchanging number of homes in the central city. That's led to rocketing home prices and rents, forcing many to live in less bikeable areas further from the urban core.
In 2014, a wave of new apartments hit the market and the City of Portland has led the region in both single-family and multifamily housing starts. The population still grew faster than the number of housing units, the Census estimated, but by a much smaller margin.
The population of Multnomah County grew 1.4 percent, the new Census figures showed, while the housing supply grew 0.9 percent.
Even so, the shortfall in new housing construction that began in 2006 — for example, Multnomah County added an estimated 10,709 residents in 2011 but just 534 net new homes — has left a deep backlog in the housing market that would require construction far faster than today's to erase.
"I would argue that it's vital that we keep building — if we don't, Portland's affordability problem will worsen."
— urban economist Joe Cortright, City Observatory
Still, major developments like those going up in Northwest Portland, the Burnside Bridgehead, Lloyd District and North Williams Avenue are signs that at least for the moment, Portland's rock-bottom rental vacancy rates (once again the lowest in the country in the first quarter of 2015, the Census estimates) have lured out-of-town investors to capitalize on central Portland's housing shortage.
"Supply is responding to increasing demand," economist Joe Cortright of the Portland-based urban policy think tank City Observatory said in an email Wednesday. "This is essential if we are to make any progress in addressing the declining vacancy rate and slowing the increase in rents. I would argue that it's vital that we keep building — if we don't, Portland's affordability problem will worsen."
Jerry Johnson, owner of research and consulting firm Johnson Economics, said that the metro area currently has 79 major projects with 8,140 units in construction, half in Portland and half in surrounding cities. That's less than half of the 20,000 units that would be required in Multnomah County alone to return to 2005's ratio of population to housing.
Still, Johnson predicted that developers will eventually overbuild.
"The housing market is complicated, but it's fairly predictable," he said. "Clearly the supply is on the way that is going to ameliorate this issue. … Eventually the market always overbuilds itself. That's what's happened. The market will overbuild and they will crush the rents and everything will become affordable again."
"Not actually affordable," he added. "It never goes back down all the way."
Southeast Ankeny Street.
Johnson noted that population isn't always the same as housing demand, and also that as prices rise, fewer people in a city tend to own their own homes and more decide to make do with less space.
"If you can't get out of your mom and dad's basement, that's one household that would have traditionally been two," he said.
I asked Johnson whether he thought a political backlash against urban construction, similar to the backlash against rural construction that led in the 1970s to Portland's urban growth boundary, could interfere with the usual business cycle. He said that such efforts would be counterproductive.
"What you want them to do is to overbuild the market, which they're prone to do," he said. "But I get what the neighbors are saying, too. They're thinking super-local. Like all of us, really. … Everybody's, I think, thinking pretty rationally in this. It's just these are difficult things to solve."
— The Real Estate Beat is a regular column. You can sign up to get an email of Real Estate Beat posts (and nothing else) here, or read past installments here.