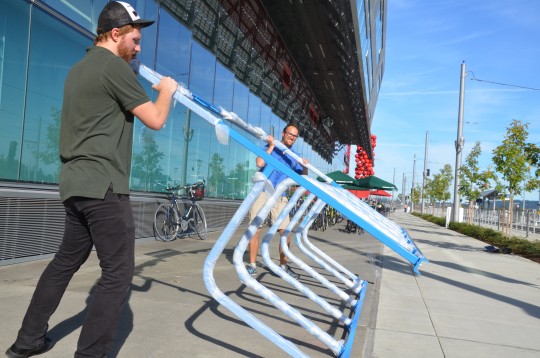 Pushing to grow its workforce without pouring precious cash into garage construction, Portland's largest employer continues to roll out bike-transportation improvements.
Next week, Oregon Health and Science University plans to became the latest major company (following Nike and Intel) to introduce a private bike-sharing system for moving quickly around its campus.
"Basically we just copied what Nike does and made it blue," said Kiel Johnson, owner of the Go By Bike shop and valet, of the 13-bike, two-station system. His team will operate it.
Like at Nike, OHSU staff and students who sign up to use Go By Bike Share will look up the serial number of a particular bike and text it to an official number, which will automatically respond with the current combination to the bike's combination U-lock. This way, the system is able to track who uses each bike, at least most of the time. (Combinations will be changed at least once a month, Johnson said.)
Like Nike's system, this one operates using the Open Bike Initiative sharing system developed by Intel.
For the moment, the system has just two stations: one at the base of the Aerial Tram and OHSU's Center for Health and Healing, and one at the Collaborative Life Sciences Building at the west landing of Tilikum Crossing. The latter location is also the closest stop for the Orange MAX line and Portland Streetcar's newly completed A/B Loop.
The stations are about a quarter-mile mile apart, linked by Moody Avenue's protected bike lane.
"We're sort of using these two stations to figure out the system, and if it goes well and is easy for people to use, then we might expand to some other OHSU locations," Johnson said. "There's an IT building downtown. There's a maintenance building in South Waterfront, and a parking lot in South Waterfront too."
The shared bikes themselves are Civia-brand five-speeds, with internal hub gearing and lights that are activated and charged by wheel rotation. Each is equipped with a front basket.
The racks are local, too: they're made by Huntco, OHSU's main bike rack supplier. Johnson said the arch that advertises the service is modeled after bike racks at ski resorts.
The system's startup costs are $8,600, Johnson said: $2,500 for the two racks, $400 per bike and $900 for system setup. Johnson said he expected the operating cost to be "around $2,000" a year for maintenance, rebalancing and customer service.
Corporate bike share systems have become popular in recent years. In addition to Nike and Intel, OHSU is following the tracks of companies from Google to General Motors.
This is Johnson's third foray into bike sharing; the first was at Lewis and Clark College, where he studied economics. The second was a DIY pilot project at his onetime South Waterfront apartment building. (He ended up pulling the plug on the second.)
"The big thing is how do we connect all these workers that want to commute by transit to their final destination?" Johnson said. "I think the city bike share is part of that, and something like this could also be helpful."