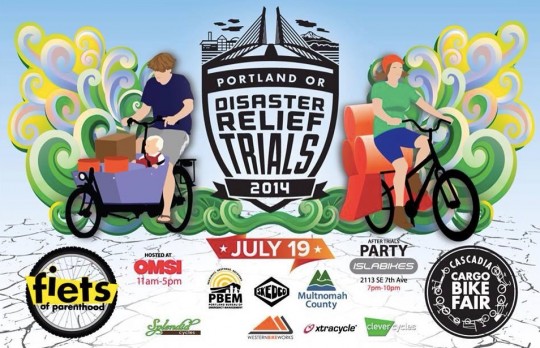 Two major trends in cargo biking will come together in Portland on Saturday at the Oregon Museum of Science and Industry. Organizers of the Disaster Relief Trials and the Fiets of Parenthood have joined forces this year in what is sure to the largest cargo bike gathering of the year.

The Disaster Relief Trials return for the third year with over two dozen riders signed up to compete. They'll be split into two categories: the Open class and Replenish class. Open Class riders will be required to muscle themselves and 100 pounds of cargo over a 30-mile, obstacle-strewn course. It's a true test of strength and moxie that will mimic conditions following a major earthquake or other disaster. In the more family-friendly Replenish Class, riders will be required to carry one passenger on a 15-mile "post-disaster household supply run."
In addition to cheering on the riders, spectators can get an up-close look at how a mobile communication and command center works. The Portland Bureau of Emergency Management and Multnomah County Emergency Management agencies will be on-site to track the riders via radio. Representatives from the Federal Emergency Management Agency (Region 10) will staff checkpoints and share emergency preparedness tips.
The Cascadia Cargo Bike Fair will will feature bike and equipment vendors for your viewing and learning pleasure. Vendors (who are also sponsors and supporters of the event) include Clever Cycles, Spendid Cycles, Islabikes, Western Bike Works, Metrofiets, Xtracycle (coming up from their headquarters in California), and rescue equipment manafacturer Skedco.
But wait, there's more! Also on Saturday, OMSI is also hosting their own event, Drive Revolution: The Future of Transportation alongside the Cargo Bike Fair.
After you've cheered on the racers and soaked up all the possibilities of cargo bikes as heroic, post-disaster responders, everyone is invited to the afterparty at Islabikes (2113 SE 7th Ave) just a few blocks away starting at 5:00 pm.
It's going to be a great weekend for cargo bikes and their fans. Check out all the details and watch the awesome promo video at DRTPDX.org.