Tuesday, December 3rd, 2013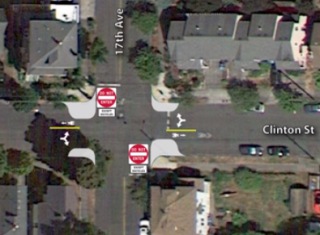 Screenshot of proposed diverters on SE Clinton from a
presentation by PSU Traffic and Transportation Class
participant Taylor Gibson.
One of Portland's most remarkable public-policy traditions takes place tonight: A handpicked handful of citizen transportation wonks will present their ideas for how to improve the local streets to a panel of city leaders.
Among the concepts to be presented in the Portland Building tonight: a plan that would dramatically reduce "cut-through" traffic on Clinton Street by adding traffic diverters at 17th, 27th and 37th Avenues; and a proposal for a regionwide, multi-jurisdiction mobile app to let people report simple road problems like clogged grates or loose leaves.