by Michael Andersen (News Editor) on February 26th, 2016 at 10:32 am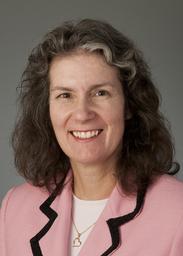 Commissioner Amanda Fritz.
The day after she drew criticism for suggesting that biking should be deemphasized compared to transit in city planning, Portland Commissioner Amanda Fritz went out of her way to put forth a different proposal.
It came Wednesday at the tail end of a report from Portland Streetcar Inc., the publicly chartered rail transit service that Fritz has become an enthusiastic supporter of. Discussion of one of Streetcar's perennial problems — getting stuck behind cars, either in traffic or due to parking mishaps — seemed to prompt her to ask a question: do we really want cars to be able to use streetcar lanes at all?
And for that matter, she asked, do we really want cars to be able to use the major biking streets?