Tuesday, October 7th, 2014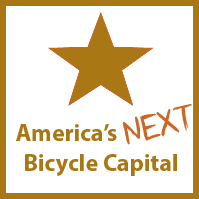 Part of our series, America's Next Bicycle Capital, where we share community voices about the future of biking in Portland. This week's guest writer is A.J. Zelada, who chaired the Oregon Bicycle and Pedestrian Advisory Committee from 2011 to 2013.
The lifeboat rule needs to be invoked: parents and children first.
I returned from the Netherlands a few weeks ago and I was struck, of course, by how different it was. I admit, I am not so sure it is reproducible here as much as I've hawked it in the past. My partner and I bicycled from Bruges, Belgium to Amsterdam up the North Sea coast line but catching Ghent, Delft, Leiden and many other towns along the incredible segregated bike lanes that simply connect everything. [Publisher's note: Follow Jerry's adventures here.]
What struck me was that Americans have a missing childhood developmental stage of being an infant, a toddler, and a child on a bike before they get on a bike independently. And even though little Americans are propped up in a baby trailer or behind the rider's seat, they still miss what parents in Belgium and the Netherlands teach their kids.