Líder del paseo, Elizabeth Quiroz de Mujeres en Movimiento y Bicycle Transportation Alliance.
(Photos: M.Andersen/BikePortland)
To read this post in English, see below. Le pedimos disculpas por cualquier error de traducción. Por favor nos dice acerca de ellos y vamos a solucionarlos.
Con la cantante oaxaqueña Lila Downs canturreando desde un equipo de música de remolque, 35 Portlanders de varias edades se reunieron domingo en Cully para un viaje para celebrar el Día de los Muertos.
El viaje de tres millas de la vecindad Cully a Concordia fue el primer paseo orientado a la familia organizado por Mujeres en Movimiento, un club Latina centrado que se organizó paseos regulares este verano.
Los participantes más jóvenes estaban en remolques, pero varios pilotos completaron toda la caminata en las ruedas de entrenamiento.
Verla bucle sobrinas de cinco años de edad, alrededor y alrededor de la zona de juegos de Scott Harvey Escuela en sus ruedas de entrenamiento antes de la carrera, Olivia Quiroz dijo que el par había conseguido sus primeras bicicletas el pasado verano.
Estamos publicando en dos idiomas porque el español fue el primer idioma del evento, y el inglés fue el segundo.
Elizabeth Quiroz de Mujeres en Movimiento y Carl Larson, empleados de Bicycle Transportation Alliance, examinaron ​​una ruta. Mujeres fundadores Quiroz, Lale Santelices de Community Cycling Center y Carolina Iraheta Gonzales del Ciudad de Portland llevaron el paseo.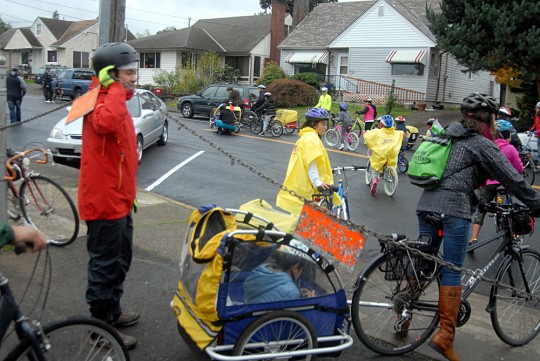 Susana Pacheco y varios familias fueron algunos de los participantes de Andando en Bicicletas en Cully, un grupo de la diversión en bicicleta y la promoción. Se asocia con Hacienda CDC, un desarrollo de vivienda asequible.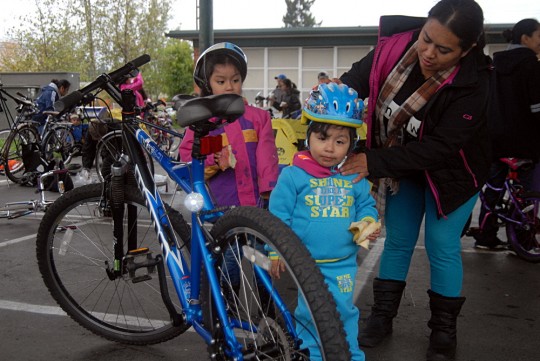 Lourdes Moyola dijo que su hijo Benjamin había tomado una clase de bicicleta el año pasado. Un amigo le había enviado el evento en Facebook para el paseo del domingo.
De pie al lado de su bicicleta, Benjamin Moyola, 11, dijo gruñonamente que no estaba seguro de por qué había venido. "Mi madre," dijo.
"Cualquier otra cosa además de quedarse en casa", dijo su madre con una sonrisa.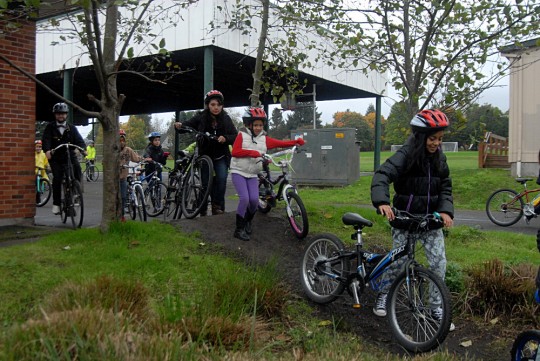 Usted puede aprender más sobre Mujeres en Movimiento y Andando en Bicicletas en Cully en Facebook.
En inglés: Portlanders celebrate "Day of the Dead" with a bike ride
With Oaxacan singer Lila Downs crooning from a trailer-mounted stereo among them, 35 Portlanders of many ages gathered in the Cully neighborhood Sunday for a ride to celebrate this weekend's Day of the Dead holiday.
The three-mile trip from the Cully neighborhood to Concordia was the first family-oriented ride organized by Mujeres en Movimiento, a Latina-focused bike club that began holding regular rides this summer.
The youngest participants were in trailers, but several riders completed the whole trek on training wheels.
Watching her five-year-old nieces loop around and around the Harvey Scott School playground on their training wheels before the ride, Olivia Quiroz said the pair had gotten their first bikes last summer.
We are posting in two languages because Spanish was the main language of the event, while English was the second.
Elizabeth Quiroz of Mujeres en Movimiento and Carl Larson, both Bicycle Transportation Alliance employees, reviewed the route. Mujeres founders Quiroz, Lale Santelices of the Community Cycling Center and Carolina Iraheta Gonzales of the City of Portland led the ride.
Susana Pachecho and various families were among the participants who came from the bike fun and advocacy group Andando en Bicicletas en Cully. The group is associated with affordable housing development Hacienda CDC.
Lourdes Moyola said her son Benjamin had taken a bike safety class last year. A friend had sent her the Facebook event for Sunday's ride.
Standing next to his own bike, Benjamin Moyola, 11, said grumpily that he wasn't sure why he had come. "My mom," he said.
"Anything else besides stay at home," his mother said with a smile.
You can learn more about Mujeres en Movimiento and Andando en Bicicletas en Cully on Facebook.