Wednesday, April 2nd, 2014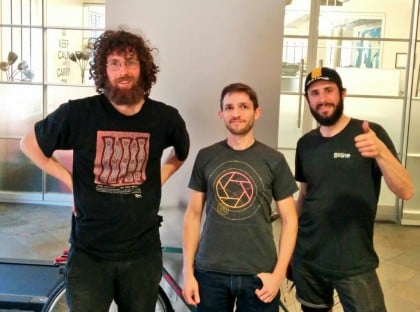 Sprocket Fly techs Reid Lustig (left) and Sam Appelbaum
(right) with the service's first client, Aaron Kaffen
of local web services firm Cloudability.
(Photo courtesy Sprocket Fly.)
Portland is great at delivering things by bike: flowers, pizza, beer, plumbing. A new company wants to be a platform for delivering ... bike repairs.
The two-week-old Sprocket Fly is a mobile bike repair service that plans to affiliate with several different bike technicians who'll travel to homes and businesses for on-site repairs.
"I'm not a huge aggressive commuter or biker, but I enjoy biking, me and my wife and kid here in Northeast Portland," Sprocket Fly founder Dan Hahn said. "One of the things that has always been a pain for us is getting it into the shop."