Posted on May 16th, 2011 at 11:18 am.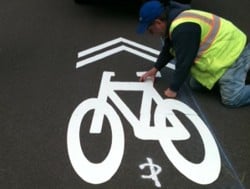 City crews installed sharrows on
6th Street in Newport this morning.
(Photo: Daniella Crowder)
The small coastal town of Newport, Oregon continues to show exciting signs of life for bicycling.
Reader Daniella Crowder (she's also co-owner of the Bike Newport bike shop) tells us the City of Newport is installing sharrows this morning on 6th Street. Crowder says she thinks Newport is the first coastal community in Oregon to use sharrows.

[more…]