Posted by Jonathan Maus (Publisher/Editor) on November 23rd, 2010 at 2:50 pm
"The high level of use we're seeing after only being open for one week in mid-November is remarkable."
— David Roth, City of Eugene Associate Transportation Planner
The City of Eugene — where a higher percentage of people commute by bike than in Portland according to the most recent U.S. Census numbers — is celebrating the opening of the Delta Ponds Bridge. The $5.6 million, 1,000 foot long bridge crosses Delta Highway just north of Valley River Center and serves as a key link in Eugene's paved trail system.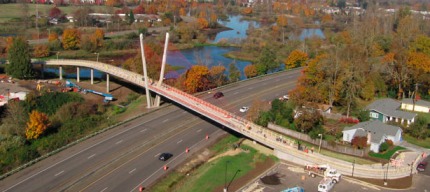 The bridge connects the well-used Ruth Bascom Riverbank Trail in the Valley River area to the Cal Young neighborhood in north Eugene.
David Roth, Associate Transportation Planner for the City of Eugene says the new bridge creates a direct connection between a large residential area and Eugene's world-class riverbank path network. Reached via email today, Roth said that the bridge is not only a key in Eugene's recreation and transportation network, but it also, "Serves as a visually striking landmark for the city". How are people liking it so far? Roth says, "We were confident the bridge would be popular among community residents, however the high level of use we're seeing after only being open for one week in mid-November is remarkable."
The new bridge was paid for in part by a $2.25 million grant from the Federal Highway Administration through the Transportation Enhancements program (that is, ironically, now coming under fire from AAA and amid talks of an earmark ban in Congress). Learn more about the project on the City of Eugene's website.