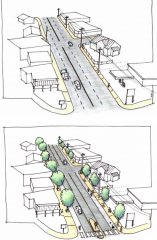 Good news everyone: the Bureau of Transportation has found a new design for their Foster Transportation and Streetscape Project that allows them to continue the westbound bike lanes on Foster all the way to 52nd.
This is a big deal because the plan that passed City Council two summers ago dropped the bike lane at 54th and led westbound Foster bike riders on an annoying zig-zag to the north in order to reach 52nd and eastbound riders would have been led south of Foster to Center Street in order to reconnect to Foster a few blocks east of 52nd — all because PBOT didn't want to remove a few blocks of on-street auto parking.
At the time, Foster-Powell area resident Brett Holycross told us the zig-zag was, "A shame for an otherwise great project."
News of the new design leaked out at the City's town hall event on the new gas tax in east Portland on Tuesday. Members of BikeLoudPDX attended the event and reported back about what they heard from PBOT's Foster Streetscape Plan Project Manager Rich Newlands. "The bike lanes on Foster will extend to 52nd Ave! This made my day," wrote Dan Gebhart.