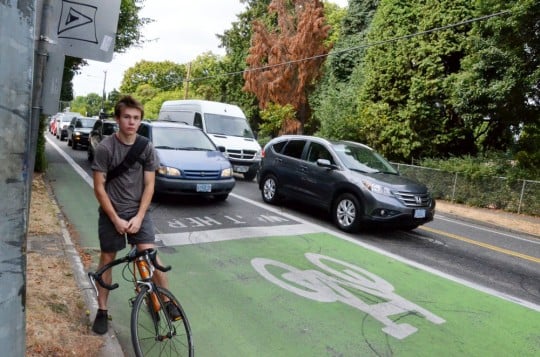 About 600 to 800 people a day currently bike on 26th to cross Powell. The city wants to create a second, more comfortable crossing at 28th, but the state says it won't allow one unless the lanes and bike boxes at 26th are removed.
(Photos: M.Andersen/BikePortland)
The Portland Bureau of Transportation is facing pressure from its counterparts at the Oregon Department of Transportation to do something it's almost never done before: remove bike lanes from a street.
An ODOT official said she could not cite evidence other than the site-specific judgment of her engineering colleagues that removing the bike lane on SE 26th Avenue would improve overall road safety. But she said that because 26th is not as safe to bike on as 28th would be, it stands to reason that the bike lane on 26th should be removed in order to encourage people to cross at 28th.
Therefore, ODOT has agreed to approve the city's request to add a new traffic signal at 28th and Powell only on the condition that the city remove the bike lane and bike box from 26th.
"There's no doubt there's going to be some out-of-direction travel for the bicyclists. We just think it's safer."
— Sue D'Agnese, ODOT regional traffic manager
"If you gave me a choice of crossing at 26th and crossing at 28th, I'd cross at 28th if there was a signal there," said Shelli Romero, ODOT's interim west area manager for the Portland region, in an interview last week. "We've got freight that go through there, we've got a high volume of cars that go there."
Cleveland High School sits on the northeast corner of Powell and 26th, so if the bike lane were removed, anyone heading to the high school on a bike from the southwest would either have to cut east to 28th, cross the street and get back west toward 26th, or else would travel on 26th without the bike lane.
"There's no doubt there's going to be some out-of-direction travel for the bicyclists," said Sue D'Agnese, ODOT's regional traffic manager. "We just think it's safer."
Sub-standard bike lanes
26th Avenue just south of Powell.
The bike lanes on 26th near Powell are unquestionably some of the worst in Portland. They get as narrow as 3 feet wide, or 3.5 feet in the northbound door zone just south of Powell. The national standard requires at least 4 feet for new bike lanes, or 5 feet in a door zone.
But that hasn't stopped people from biking on 26th. Bike counts at 26th and Powell in February 2012 and June 2013 show that the 26th Avenue bike lanes are some of the most-ridden in southeast Portland, carrying between 60 and 80 bikes in the morning and evening peak hours. That suggests total daily bike traffic in the 600 to 800 range.
Except at the point where it crosses Powell, SE 26th Avenue isn't actually very dangerous for people biking. Between Division and Holgate, 26th Avenue saw 17 bike-related injuries reported from 2004 to 2013 — eight of them at the crossing of Powell.
26th Avenue, a onetime streetcar route north of Powell, is flatter than 28th in the area and connects directly to more commercial destinations.
City and state agree that new crossing at 28th would boost safety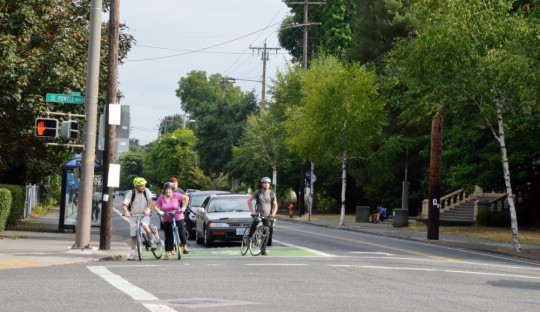 10 a.m. southbound bike traffic at 26th and Powell.
The proposed signal at 28th Avenue would be part of the city's planned 20s Bikeway. In the city's early plans for that bikeway, 26th and 28th would form a couplet, with 26th Avenue replacing its 3.5-foot-wide bike lanes with a single southbound buffered bike lane and with a separate neighborhood greenway at 28th. However, the city has since rejected that idea in favor of leaving the narrow 26th Avenue bike lanes as-is while also creating the neighborhood greenway on 28th.
"We're moving them in a location where they don't have to compete with left or right turns of cars."
— Shelli Romero, ODOT interim area manager
The city's original proposal to remove the northbound bike lane from 26th, though, had caught ODOT staffers' attention. If removing the northbound lane at 26th would be expected to divert northbound bike traffic to 28th, wouldn't removing both bike lanes from 26th be expected to divert even more bike traffic to 28th?
"It shifts an already over-capacity high-volume intersection — it shifts those users over to 28th," said Romero. "We're moving them in a location where they don't have to compete with left or right turns of cars."
Romero said the presence of the bike lanes and boxes have no impact on Powell traffic capacity or travel time, though a new signal at 28th would increase travel times a bit.
City and state officials said in interviews that they've been involved in a months-long negotiation, with the city angling to keep the 26th Avenue bike lanes in place and the state angling to have them removed.
Rich Newlands, the city's project manager for the 20s Bikeway, called the long disagreement an "unfortunate situation." Ultimately, because Powell is a state highway, ODOT holds authority over any signal changes there.
Biking advocate: People will use both intersections, so both crossings should be safe
The corner of 26th and Powell drew heavy media attention in May when two separate collisions injured two men riding bicycles on 26th. One man's leg was severed in a collision with a left-turning truck and the other man's leg broken by an eastbound Jeep.
"You're not going to stop that travel choice, so you end up putting people in danger."
— Rob Sadowsky, Bicycle Transportation Alliance
The first incident led to a demonstration by many locals who urged ODOT to prioritize safety by redesigning Powell Boulevard to reduce unsafe driving. ODOT responded by saying it would add a left-turn arrow phase to the signal at 26th.
Rob Sadowsky, executive director of the Bicycle Transportation Alliance and stepfather of a Cleveland student, called ODOT's position "kahooey."
"26th and Powell being a major school that people are biking to, how are you going to get them there?" Sadowsky said. "You're putting students at significant risk because now they have to travel from 28th to 26th either via the sidewalk or via Powell."
"It forgets to look at both the macro and micro at the same time," Sadowsky said. "You're not going to stop that travel choice, so you end up putting people in danger despite their stated best intentions to make it safer. … If they have an alternative way to get people to Cleveland High School safely, then let's see it."
Plan follows logic of neighborhood greenway system, ODOT says
The city's
Bike Plan for 2030
calls for "separated in-road bikeways" (blue stripes) on 26th.
There's no question that Romero and D'Agnese see themselves as arguing in the interest of bike safety by trying to make it less desirable to ride a bike on 26th Avenue.
"We support the city in their off-major road system, to keep bikes on lower-traffic roads," D'Agnese said, referring to the city's neighborhood greenway network. I replied that the bike plan approved by the city in 2010 includes both neighborhood greenways on side streets and separated bike lanes on major streets, including on 26th Avenue across Powell.
"I'm not up on the city's latest plans," she said.
I asked Romero and D'Agnese whether they had any evidence that removing a bike lane from 26th would improve overall safety, or whether the additional risk to people who would still bike on 26th without the bike lane might outweigh the safety benefits of shifting bikes to 28th.
D'Agnese replied that there are "conflicting studies in the transportation safety realm" and that some show that "when bike volumes are high, crash rate goes up." Therefore, she said, it's not necessarily true that people biking on 26th would be worse off without a bike lane.
"It depends on the geometry and the site-specific conditions," she said. "I'm trusting the state traffic engineer."
Road user: I'd rather have both crossings, but I'd use 28th
26th Avenue bike commuter Vinnie Mey.
Finally, on Thursday morning I visited the site to get some photos of how people are using 26th Avenue right now. I asked one man biking past, nearby resident Vinnie Mey, what he'd like to see happen.
Mey, who bike-commutes to his job at Portland Teriyaki at 125th and Glisan, said he'd prefer to have both crossings. Given a choice of which to use, though, he said he'd rather ride 28th across Powell and up to Clinton — due in part to what he thinks is a bad bike crossing of Holgate at 26th.
"It's dangerous," Mey said. "There's a time when all the lights are green. That's when people get hit."
Correction 8/14: An earlier version of this post incorrectly said this was the first time Portland has removed bike lanes without something else taking their place. It previously did so on NW Lovejoy west of 11th Avenue.