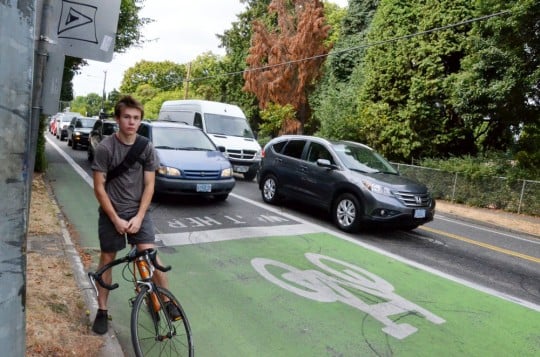 The City of Portland wants to create a second, more comfortable crossing of Powell at 28th, but the state says it won't allow one unless bike lanes and bike boxes at 26th (shown here) are removed.
(Photos: M.Andersen/BikePortland)
Three weeks after being asked if it can cite any evidence supporting its claim that removing a bike lane can sometimes increase bike safety, the State of Oregon has come up empty.
Moreover, a state spokeswoman wrote in an email Tuesday that four studies cited by the City of Portland that document safety benefits of bike lanes are inadequate, though the state did not say in what way the studies fall short.
"More research needs to be done," the Oregon Department of Transportation said in its statement.
Research notwithstanding, the Oregon Department of Transportation is continuing to deny the City of Portland's request to install a new stoplight at 28th Avenue and Powell (which would let the city create a new north-south neighborhood greenway on 28th) unless the city agrees to first remove the narrow bike lanes from nearby 26th Avenue.