Posted on January 27th, 2016 at 10:59 am.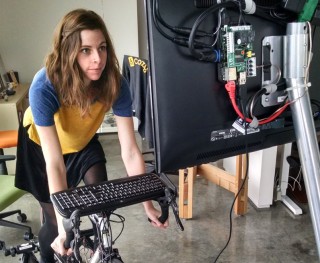 The team put "30 to 40 person-hours" into creating the
admittedly ridiculous device.
(Photo courtesy Cozy)
So many people at a local startup are into bikes that they've rigged up a stationary bike in their office as the way to publish content to their website.
The "Velopsipede," as they dubbed the project, was the result of a holiday-season "hack day" that invited engineers to unwind by stretching their creative muscles.
"There's no business justification for doing this," Matt Greensmith, operations engineering manager for the company, Cozy, said of hack days. "But it enables you to do things you couldn't otherwise do."