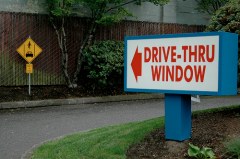 Not just for cars anymore.
(Photo: Elly Blue/BikePortland)
Back in August, local fast food chain Burgerville made headlines when they opened their drive-thrus to bicycle-riding customers at all 39 of their locations.
But, according to an interview with the company's CEO Jeff Harvey published in The Oregonian last week, that's just the start.
advertisement
Read below for Mr. Harvey's response to a question about the bike-thrus (emphasis mine):
The O: A bicyclist was turned away last year at a drive-through at a Portland restaurant. Burgerville responded by opening the drive-throughs at all of its 39 restaurants to bicycles. Is that feature getting used very much?

Mr. Harvey: It is getting used, more so than it was before we made the shift. I still don't think it's, you know, it's not a substantial percentage of our guests showing up on bicycles, but that wasn't the intent anyway. The intent with Burgerville always is that everybody is at the table. So whenever we run in to a situation of someone's excluded we want to make the effort to make sure that they're there.

We're not done. Allowing bikes at the drive-through is not the end game for Burgerville. I would expect this year you're going to see us engaging more with bicycling organizations. If nothing else I want to make sure that when bikes go through the drive-through it's a great experience for them and easy for them.
Good to see that the CEO is aware of more people using the bike-thru service.
It will be interesting to see what else Burgerville does in the coming year. 2009 was the year Hopworks Brewery established themselves as the go-to beer in the local bike scene — will Burgerville become the fast food burger joint equivalent?
Have any of you biked-thru? If so, what was your experience?