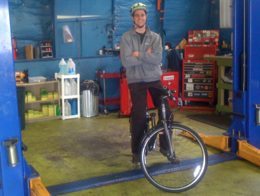 Farhad Ghafarzade in his shop.
(Photo: Green Drop Garage)
Green Drop Garage, a full service auto repair shop in Southeast Portland, now offers free bike loans to customers who need a lift when their car is being serviced.
Farhad Ghafarzade, President of Green Drop, has struck up a partnership with local bike shop Bike N' Hike. Ghafarzade says he and his staff already run most of their errands by bike — including picking up parts from nearby suppliers with their trailer — so, "Offering our customers a bike to borrow is an easy way to reduce our carbon footprint just a little bit more."
On average, Green Drop loans out two bikes every day and Ghafarzade says he hopes to get even more bikes to loan in the future as more customers hear about the service. "People really like the concept. I hear a lot of, 'That's so Portland of you.'"
In an email to customers explaining the new bike loan service, Ghafarzade wrote,
"Even though we fix cars, we still think the best way to get around is by bike, foot, or public transportation. These modes of transportation are more eco-friendly. They also allow us to meet new people, to share, and experience the journey outside of those sterile, air-conditioned, rage-inducing boxes on wheels."
In addition to the bikes, Ghafarzade also loans helmets, locks, and lights.
It seems Green Drop is looking to find the balance between car dependency and carfree living, acknowledging that cars have their place and providing services to keep them running smoothly, while doing what they can to encourage people to bike, walk, and take transit whenever possible.
Check them out at GreenDropGarage.com.