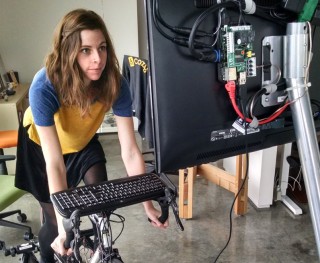 The team put "30 to 40 person-hours" into creating the
admittedly ridiculous device.
(Photo courtesy Cozy)
So many people at a local startup are into bikes that they've rigged up a stationary bike in their office as the way to publish content to their website.
The "Velopsipede," as they dubbed the project, was the result of a holiday-season "hack day" that invited engineers to unwind by stretching their creative muscles.
"There's no business justification for doing this," Matt Greensmith, operations engineering manager for the company, Cozy, said of hack days. "But it enables you to do things you couldn't otherwise do."
Cozy, which makes free-to-use residential property management software, is the sort of company that the economically depressed Portland of 2004 dreamed would one day come to town in search of quality of life. It did. After being founded in 2012 in San Francisco, the venture-backed firm opened a Portland office in late 2013 and by mid-2014 had relocated its entire workforce to Portland.
"100 percent of the people we had wanted to come to our Portland office instead of San Francisco. The bike commute people are the people we're attracting."
— Matt Greensmith, Cozy
"100 percent of the people we had wanted to come to our Portland office instead of San Francisco," Greensmith said. "The bike commute people are the people we're attracting."
Cozy has no on-site auto parking at its office near SE Grand and Burnside, but does have a bike parking area in its lobby. Greensmith, who has a 5.5-mile bike commute, said a quarter of the company's 20-odd employees bike commute in winter and more than half do in summer.
The Velopsipede concept came from Cozy CEO Gino Zahnd, who also happens to be a bike lover and amateur racer. He was noodling one of the few recurring tasks in Cozy's workflow that hadn't been automated: hitting "publish" on the company's website.
"Everyone in the company right up to the CEO writes content," said Greensmith. But not everybody had the ability to move posts to the public website. "People were asking members of our engineering team to make posts public. That's not efficient."
Somehow that led to a conversation about other sorts of efficient machines.
"It started as a joke: You should be able to publish the site by bicycle," Greensmith said.
After the December hack day, that joke turned into "the most Rube Goldberg thing you've ever seen" for pushing a digital button, Greensmith said. He said about 30 to 40 person-hours have gone into the code and hardware.
To publish a blog post or other public content, you first queue it up on Cozy's internal site. Then you get on the bike and select the distance you want to aim for. (The options are in kilometers, naturally.)
The 10K distance is named "Gino" after Cozy's CEO. The 100K distance is named "Starla" after his wife, a professional racer.
Then you pedal. A sensor on the back wheel tracks each rotation and multiplies by 189 centimeters to measure distance traveled.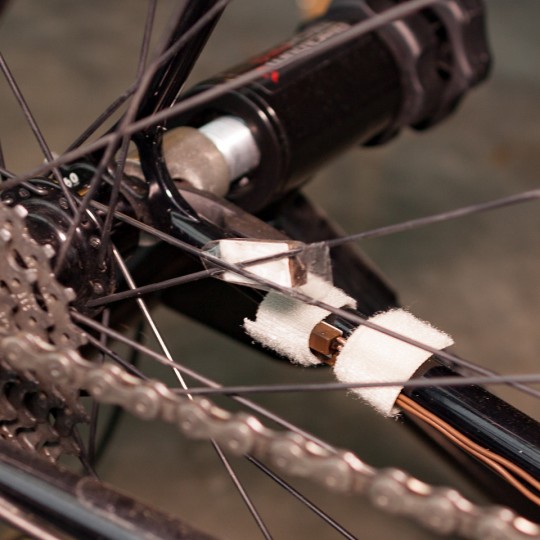 (Photo: Ted Timmons)
That information is sent into a simple $30 hobbyist's computer called a Raspberry Pi…
…which lets you know when you've pedaled far enough, and takes a picture at the finish line.
That triggers an automatic report to the company's internal chat channel…
(Yep, that's me.)
…and the post goes public on the Web.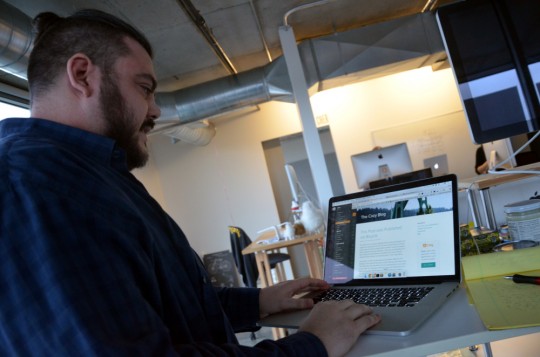 Greensmith is happy to admit that it's a pretty silly project. But once in a while, his thinking goes, it's useful to be silly.
"We've had a chance to unwind after a long year of working on business code," he said.
If you're interested in learning more about the project, you can read all about it on a blog post the company published Tuesday: "This Post was Published via Bicycle."
— Michael Andersen, (503) 333-7824 – michael@bikeportland.org
BikePortland can't survive without paid subscribers. Please sign up today.