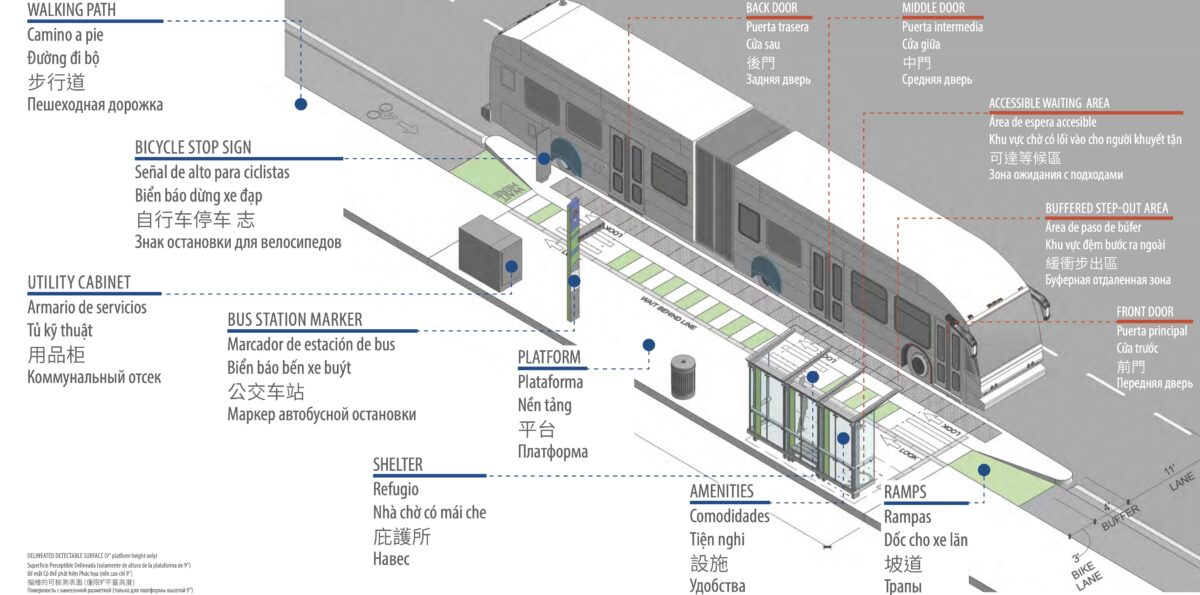 TriMet is almost at the end of the design phase for the Division Transit Project, and once again they seek our input via an online open house launched this morning.

This project is a $175 million investment that aims to significantly improve transit service. But this is a much more than just a transit project.
Statistically speaking, Southeast Division is one of the most dangerous and deadly streets in Portland. Five intersections on Division are ranked in the top 20 overall according to the transportation bureau's high crash network analysis. Four of those five intersections will see major changes as part of TriMet's project and/or PBOT's related Outer Division Safety Project.
I'll share the latest on PBOT's work in a separate post. For now, let's look at TriMet's Shared Bicycle and Pedestrian station design (as shown above).
TriMet plans to build 72 new bus stations on Division in the 12 miles between SE 10th Avenue and the Cleveland Park & Ride in Gresham. 30 of those merit our close attention because they're a new design that will put cycling traffic between a stopped bus and its passengers. TriMet has been working on this design since 2017 and now is one of our last chances to weigh in before construction starts later this year.
Back in October TriMet did a live demo of this design.
Here are a few samples of how these new stations will be oriented in relation to the street (note the presence of protected cycling lanes (light green) and center medians):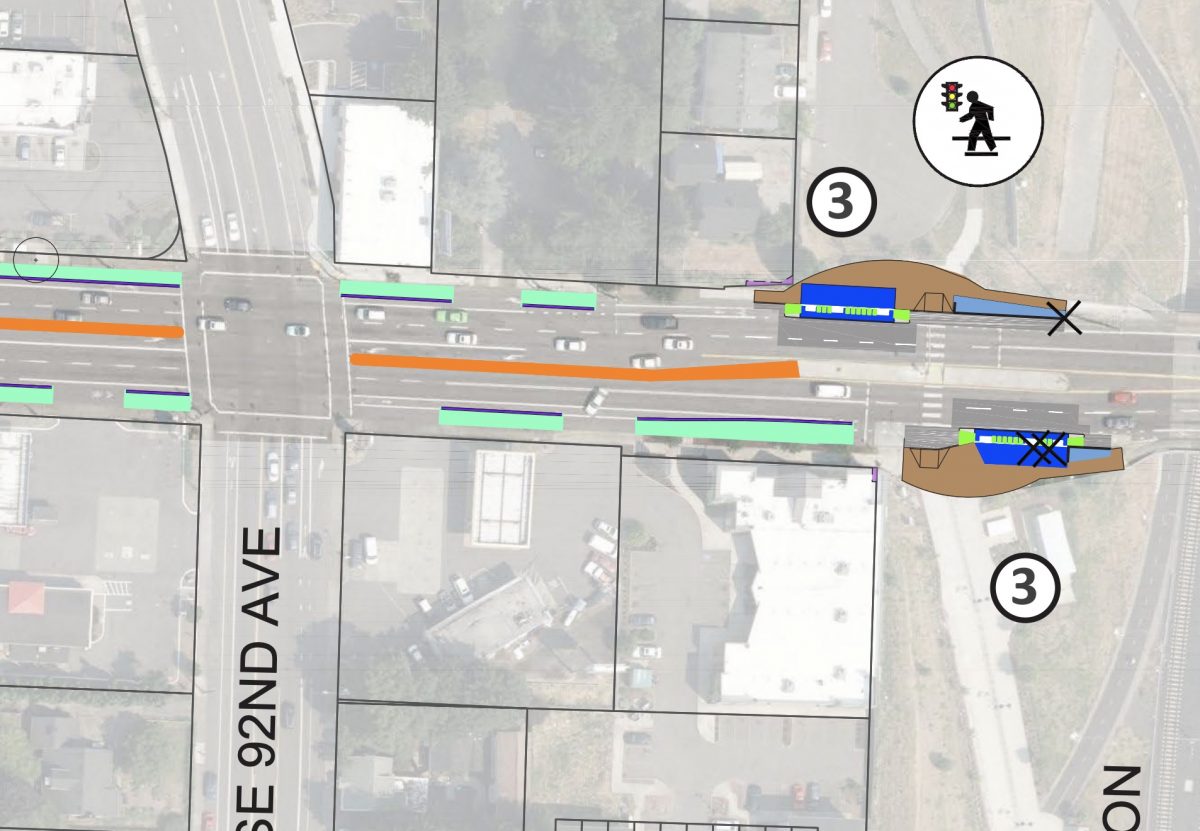 And here's the design concept again so you don't have to scroll: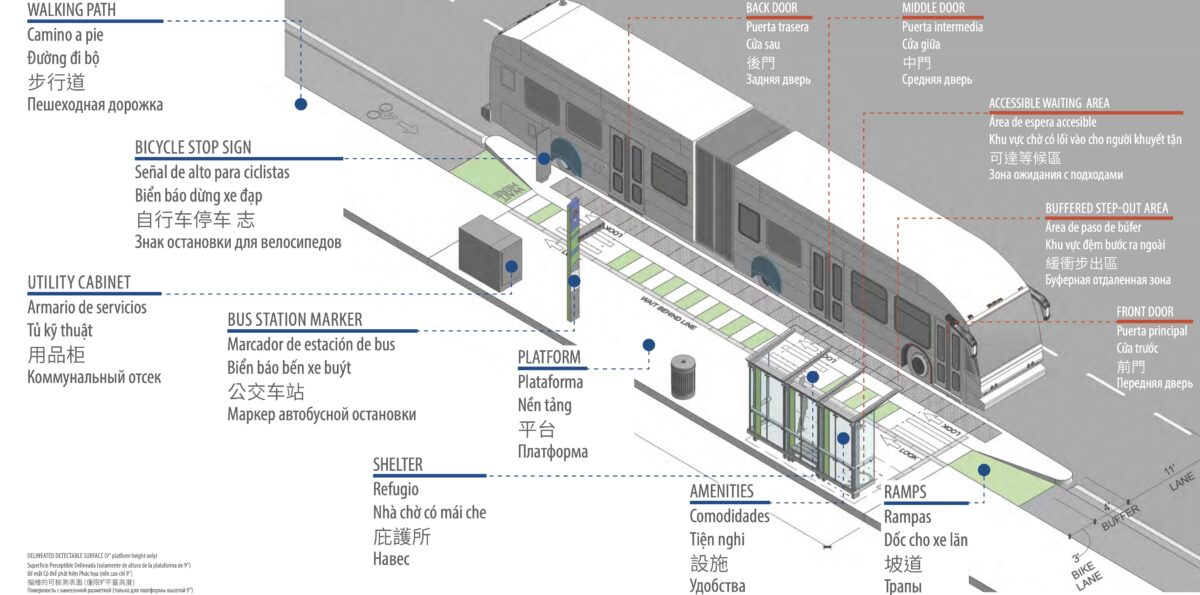 Compare that with the October 2017 design concept to get an idea of how TriMet's thinking has evolved:

The Shared Bicycle and Pedestrian station design shows the bike lane narrowing to three feet as it enters the station area. There would be a four-foot wide concrete median on riders' left side where bus passengers would load and unload. TriMet plans to install a "Bicycle Stop Sign" at the entry point. TriMet says their expectation is that bicycle riders should stop only when a bus is present.
Note that these new Shared Bicycle and Pedestrian stations will only be present east of 84th. The current plans show them at: SE 85th (westbound), SE 87th (eastbound), I-205/Division Max Station (both sides), 101st (both sides), 111th (westbound), 113th (eastbound), 116th (both sides), 122nd (both sides), 130th (both sides), 135th (westbound), 136th (eastbound), 142nd (both sides), 148th (both sides), 157th (both sides), 162nd (both sides), 168th (both sides), 174th (both sides), 182nd (both sides).
These new stations, the 60-foot long articulated buses that will service them, the faster transit operations in general, along with a significant amount of protected bike lanes, new crossings, and center medians (all planned by PBOT in a separate project), could have a major impact on Division.
Service of the new line is expected to open in 2022. Please check out TriMet's online open house to help them improve this project.
— Jonathan Maus: (503) 706-8804, @jonathan_maus on Twitter and jonathan@bikeportland.org
Never miss a story. Sign-up for the daily BP Headlines email.
BikePortland needs your support.