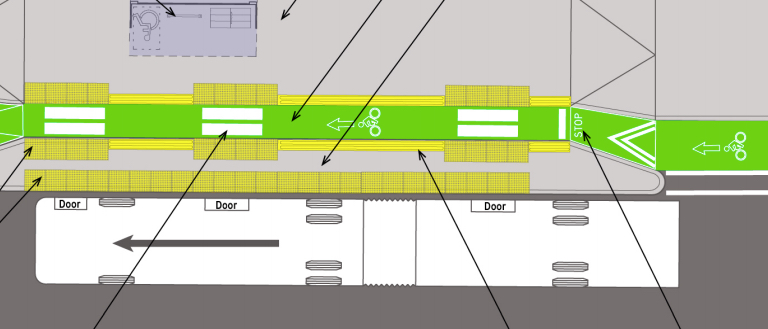 As TriMet inches ever closer to the final design of their $175 million Division Transit Project, the agency once again needs feedback on how best to handle bicycle users at new bus stations. And with protected bike lanes becoming a more common feature citywide, whatever TriMet decides to use could become the new standard.
Since our look at this project in October, TriMet has worked to "recalibrate" the project due to a budget shortfall of $14 million.
Several of the cost-cutting measures are based around station design. Instead of a raised island for passengers to wait on and bike lanes that jog behind it, the latest design would keep the bike lane in front of waiting passengers and offer a "step out" strip to be used just prior to boarding.
The design will be revealed for the first time at City Hall tonight at a special joint meeting of the PBOT's Bicycle and Pedestrian Advisory Committees.
The update comes as TriMet reaches the 30 percent design milestone and looks to finalize the project by the end of next year. The Division Transit Project started in 2014 as a true bus rapid transit (BRT) line that would connect downtown Portland and Mount Hood Community College. But when it became clear that putting buses on state-controlled 82nd Avenue and/or dedicating lanes to them on SE Division wouldn't be possible due to the presence of single-occupancy car drivers, the project stalled out.
In a FAQ published in August 2017, TriMet wrote that dedicated bus lanes weren't possible because, "Division carries approximately 35,000 cars per day, which is well over the 20,000 to 25,000 cars per day that a 2- or 3-lane roadway can accommodate," and that, "Reducing lanes on Division for a dedicated bus lane would very likely result in traffic diversion to other streets and significant delay." Dedicated transit lanes would also prohibit some drivers from turning across them and the, "impacts to local access and vehicle circulation, including access to businesses," were deemed too great.
Even without dedicated lanes, TriMet is promising 15-20 percent faster transit between Portland and Gresham thanks to upgrades in signal technology that will give buses priority, shorter "dwell times" (time buses spend at stops) thanks to all-door boarding and easier fare payment, fewer stops (one-third mile station spacing) and "demand based stops" where the operator will only stop if necessary. Of the 40 or so new platforms TriMet expects to build for this project, about 16 will be demand-based.
In a briefing with TriMet staff yesterday, we also learned they've finalized a contract with Union Pacific Railroad to upgrade track switches in the Brooklyn rail yard. This means delays caused by trains at the SE 8th crossing will be significantly minimized when the project is completed in May 2019 (well before the new line opens in 2022).
East of 82nd, PBOT's concurrent Outer Division Safety Project project calls for a variety of protected bike lanes. Since those are relatively rare in Portland, TriMet has yet to standardize a bus stop design that preserves and respects biking space. TriMet hopes their new "Bikes Behind Step Out" design works well not only in the Division Transit Project, but throughout the city and region as well.
The design features a bike lane that narrows to three-feet wide as it enters the station area. One of TriMet's big concerns is making sure bicycle users slow down and respect bus passengers. People will be expected to wait on one side of the bike lane; then when a bus arrives, they'll step up to the small island before boarding. Bicycle users will be expected to stop and wait as buses load and unload.
Here's a larger view of the new design: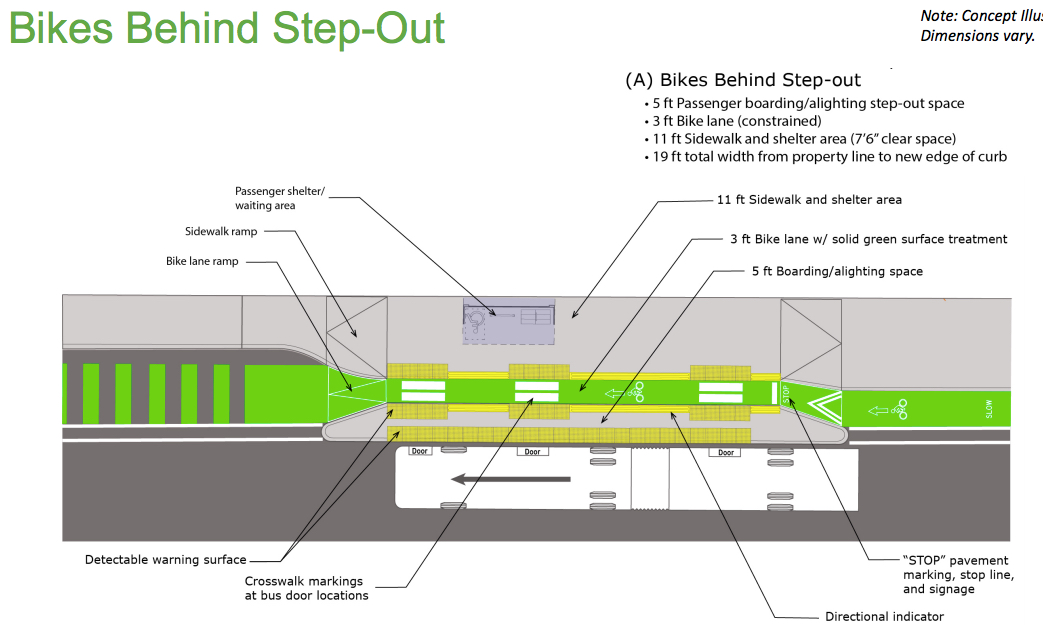 Consultants from Alta Planning and Design were hired to help create the design, which is best on best practices endorsed by the National Association of City Transportation Officials (NACTO). It's preferred by TriMet because — unlike the initial islands design — the step out design has a smaller footprint and can use existing right-of-way (meaning, it's cheaper).
TriMet compares their design to similar ones already in use in Toronto: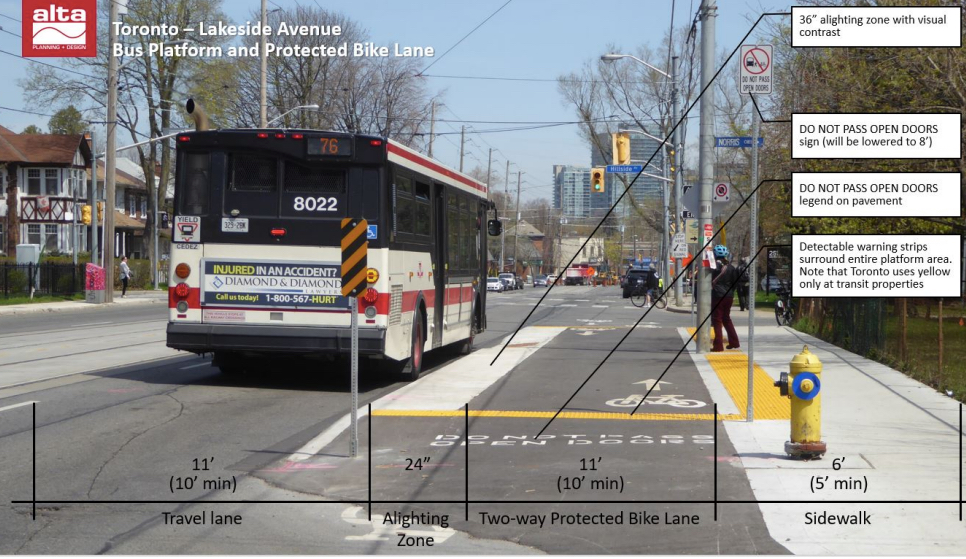 What do you think?
TriMet has two open houses scheduled later this month where you can learn more, see the latest designs, and talk with project staff:
Wednesday, June 27
5–7 p.m.
Gresham City Hall
1333 NW Eastman Pkwy., Gresham
Thursday, June 28
5–7 p.m.
PCC Southeast Campus
Community Hall Annex
2305 SE 82nd Ave., Portland
We should hear good feedback from the advisory committees tonight. Stay tuned for more coverage.
UPDATE 6/13: Here's one of the key slides shown last night. TriMet is trying to figure out which design to go with: A narrower "alighting area"/step out and straight/wider bike lane, or a narrower bike lane that jogs (and requires cutting into existing curb) around a larger step out zone:
Here's another graphic that was shown to the committees last night. It's an animation that depicts the intended movements of different users:
— Jonathan Maus: (503) 706-8804, @jonathan_maus on Twitter and jonathan@bikeportland.org
Never miss a story. Sign-up for the daily BP Headlines email.
BikePortland needs your support.