As we reported earlier this month, TriMet is firming up designs for the 41 new stations they'll build as part the Division Transit Project — a $175 million plan to improve bus service between the downtown transit mall and Mt. Hood Community College. (It started as a bus rapid transit project but has since morphed into just better bus service.)
At last night's joint meeting of Portland's bicycle and pedestrian advisory committees in City Hall, TriMet planners shared even more recent and detailed station designs. They specifically wanted feedback on their "island stations," where the bikeway (slated to be relatively robust and protected for the length of this project) runs directly adjacent to the bus stops. These island stations are "floating" in the roadway and separated from the sidewalk by the bikeway (see images).
TriMet is looking for "approaches to bicycle slowing" and they want feedback on "bicycle slowing measures" to potentially implement around these stations. The concern is that bicycle riders will come from the six-foot (plus buffer) bikeway and will enter the station areas too quickly and imperil people who are using the bus or otherwise walking in these crowded areas. One slide in their presentation listed a challenge of island stations as: "Requires added design applications to create safe environment for pedestrians and bicyclists."
According to TriMet, some of those design applications could include: reducing bikeway width to encourage single-file riding; a "redirection taper"; raised and marked crosswalks; yield teeth; "yield to pedestrians" signage; curbs and rumble strips.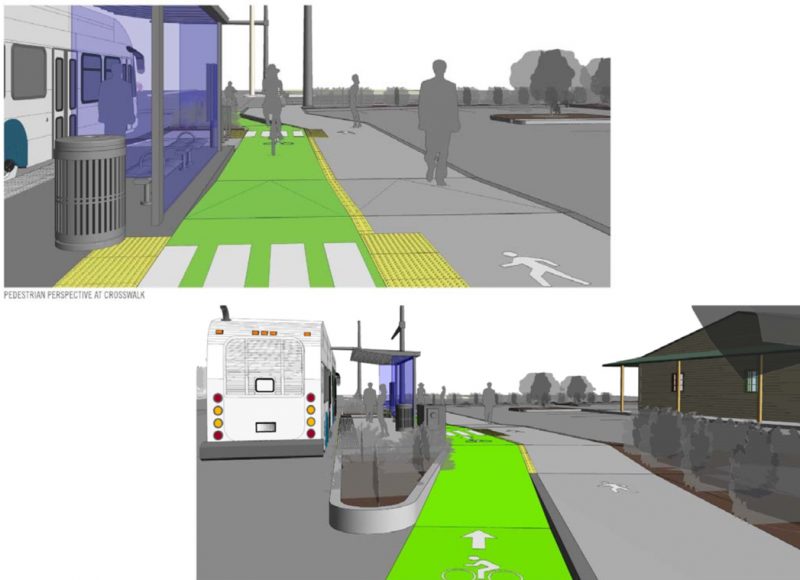 One member of the bike committee said TriMet should consider narrowing the bikeway "like a chute" to slow people down and prevent them from riding side-by-side. Another member referred to this as "channelizing bikes". The suggestion to take the bikeway from six feet down to four feet was also discussed. Another member expressed concerns that a four-foot bikeway is too narrow for people with cargo bikes or those who pull cargo trailers.
PBOT Bike Coordinator Roger Geller (who sits on the BAC as the staff liaison) added that he's not opposed to considering some sort of neckdown in width; but he feels most people would slow down due to the mere presence of other humans in a crowded area. Geller also suggested that TriMet set up video research cameras on SW Moody in South Waterfront where there are already island stations in use.
Another TriMet planner mentioned the possibility of creating a ramp as the bikeway goes from the road to the station area. And if a ramp was built, TriMet wants to know what the ideal incline would be.
As for rumble strips, as you can see in the image these would be — thankfully — placed alongside the bikeway and not perpindicularly across it.
While the concern about jerk riders is real (but dare I say there are no more jerk riders, proportionately speaking, then there are jerks with any mode of travel) and the comfort and safety of people on foot is the highest priority, it seems like a bad idea to further degrade bikeway quality based on the paternalistic perception that bike riders are heathens hell-bent on running people over. It's hard enough as it is for Portland to build high-quality bike infrastructure. And let's remember how we approach automobile infrastructure. After all, its drivers who are responsible for the vast majority of injuries and deaths we're all concerned about. Do we ever consider equally disruptive measures for cars like ramps and chutes and rumble strips on major arterials?
TriMet said they'll have an online open house comment period coming soon. We'll post again when that happens. If you want to share feedback directly with TriMet staff and see these designs in person, they're hosting a Community Advisory Committee meeting tomorrow night (10/19) from 6:00 to 7:30 pm at PCC Southeast Community Hall Annex (2305 SE 82nd Ave). There are also two open houses scheduled for early November. Get those details on the project website.
— Jonathan Maus: (503) 706-8804, @jonathan_maus on Twitter and jonathan@bikeportland.org
Never miss a story. Sign-up for the daily BP Headlines email.
BikePortland needs your support.