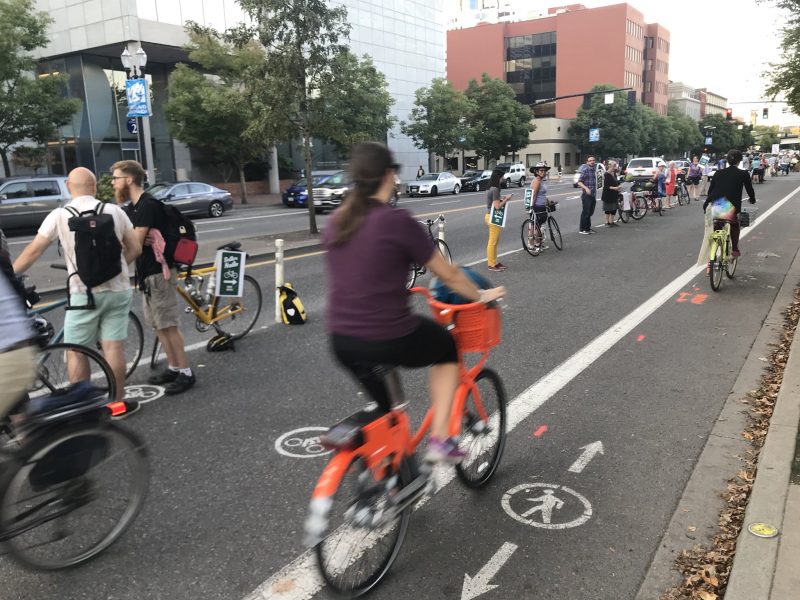 A quarter-mile of Portlanders lined Southwest Naito Parkway's temporary protected bike lane Thursday evening to form bollards with their bodies and call for the next "Better Naito" to be permanent.
We hope everyone had a great time!!! pic.twitter.com/c3pMQWc247

— Better Block PDX (@BetterBlockPDX) September 29, 2017
For half an hour following 6 p.m., the participants formed a line along the bike lane that stretched from Salmon Street Fountain, just north of the Hawthorne Bridge, to the area beneath the Morrison Bridge. Crowd estimates varied as participants came and went, but one precise count put it at 104, another at 117.
"This was the largest gathering to support a bike lane in Portland, period," co-organizer Kiel Johnson said in a text Thursday night.
Late-wave commuters who rolled past during the event were greeted by smiles, a few cheers and once in a while high fives. Signs were waved at passing drivers, some of whom responded with seemingly short and happy honks.
"I was surprised and I was thrilled with the number of people who turned out," said another co-organizer, Emily Guise of BikeLoudPDX. "They were really into it. It was a pretty wide range of ages too."
Johnson served as mobile hype man, rolling back and forth on Paul Jeffries' speaker-encrusted cargo bike blaring songs like Bowie and Queen's "Under Pressure" ("People on streets / ee da de da de").
Guise worked the crowd too, at one point leading the line of participants in a "wave" that rolled itself down the street, too.
"The people who were riding by when we were cheering them on, they seemed pretty pumped for the most part," she said.
BetterBlockPDX, the local street-reimagination group that first conceived and installed the lanes for an on-street test two years ago, was present too. Gwen Shaw, who designed the project as part of her traffic engineering degree from Portland State University and now works for the local office of Toole Design, was beaming.
The Street Trust sent a contingent, including Executive Director Jillian Detweiler with a fluorescent "I Love Better Naito" sign of her own:
Some signs didn't leave much of their agenda to the imagination:
Others, like Michael Ard, waxed more poetic:
And others seemed to embrace understatement: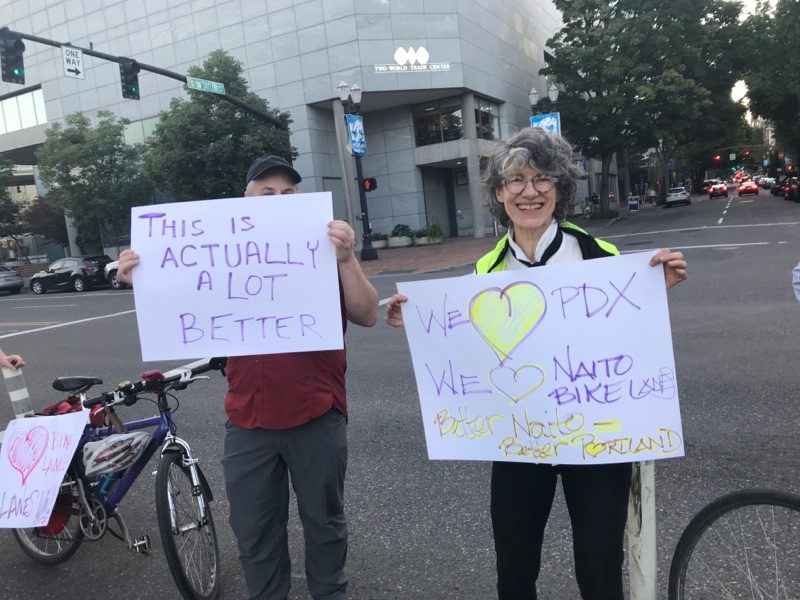 KATU News's Reed Andrews, covering the event for the local ABC affiliate, smiled as he shouted his account of the event into a headset. KPTV sent a crew, too.
The Willamette Week and Portland Mercury both published advance articles. Willamette Week's referred to the "hero Twitter users" who in June hijacked the regional chamber of commerce's attempted campaign against the project and sent a flurry of emails in its support to city council.
The Mercury simply called Naito's protected bike lanes a "Very Good Idea."
This was the third summer in a row that a protected bike lane and walking path have been installed along Naito. The first two years, Better Block PDX operated it during Waterfront Park's festival season only; this year, the city did a more durable design, complete with bike signals and 400 removable plastic bollards, for five months.
This year, the city also completed a short but excellent path at the north end to help people safely cross the Steel Bridge onramp.
It seems likely that a permanent version of Better Naito could be funded next year as part of the long-brewing (and newly rebranded) "Central City in Motion" plan to improve walking, biking and transit in the central city.
And as we reported Thursday afternoon, the city has separately lined up funding and conceptual engineering for a possible project that could permanently expand the protected bikeway all the way south to Harrison, while adding a new traffic signal at the Hawthorne Bridge to speed auto throughput there and reduce Streetcar backups to the south. That project, too, could be built next year.
If installed, a full Better Naito from the Steel Bridge to Harrison would create a direct, continuous biking network between downtown Portland and the Lair Hill area, reducing bike-walk conflicts on the riverside path that runs through Waterfront Park and the RiverPlace development to the south. It'd also bring the protected bike lanes within a few (hilly) blocks of Portland State University, which is probably the city's No. 1 biking destination.
Whatever the future may bring, organizers seemed triumphant about Thursday's turnout. Johnson is currently crowdfunding a campaign to turn a photo from the event into a billboard with the caption "Portland supports protected bike lanes," to be deployed when the city council is considering the issue.
"We got a lot of media coverage for Better Naito and the need to make it permanent, and it also demonstrated a lot of support for Better Naito," Guise said Thursday night. "So I think that'll be important in getting the funding to make it permanent from city council. And I also think it's important for the skeptics to see that."
— Michael Andersen: (503) 333-7824, @andersem on Twitter and michael@portlandafoot.org
Never miss a story. Sign-up for the daily BP Headlines email.
BikePortland needs your support.