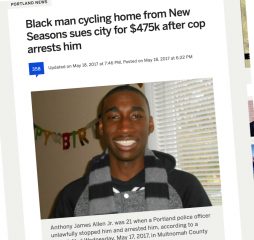 The Oregonian reports that a northeast Portland man who was tackled off his bike, roughed-up and arrested in 2015 has filed a $475,000 lawsuit against the City of Portland.
An attorney for 23-year-old Anthony James Allen Jr. told The Oregonian her client was arrested without cause simply because he was black. Allen was cycling home from work when the police first made contact with him and began questioning him about an unrelated incident. Here's more from Allen's attorney as reported in The Oregonian:
"You need reasonable suspicion," Albies said. "It can't just be because 'I feel like it.' It can't just be because 'You're black and I want you to do what I want you to do.' … If that was me on my bike … there's no way they would have done that. I'm a white woman."
The lawsuit filed Wednesday (PDF) says that Allen was profiled due to his race. Police were in Allen's neighborhood because of a shooting that had occurred. Here's what happened when Allen rolled up on his bike (from the lawsuit):
Once on his street, Allen approached his home on bike with grocery bags in hand. PPB Officer Colby Marrs appeared suddenly out of the shadows and yelled at Allen and his cousin to stop… Allen told Marrs that he had just gotten off work and was going home, and pointed to his house about two or three doors down. Marrs said "not if I have questions for you." Allen explained that he had just spoken to two other officers who told him to go home. Marrs then told Allen that he was not going home, and that when "an officer tells you to stop, you fucking stop." Allen, put off by this disrespectful behavior he did not deserve, said that he did not have anything to say to Marrs, and continued on his way home.

Instead of letting Allen go home, Marrs yelled at Allen and grabbed his shoulder. Marrs put his hand on his gun and called for backup, ordering Allen to the side of the street. As Allen attempted to comply with Marrs' order by bringing his bike over to the curb and telling Marrs he was doing so, Marrs attacked Allen. Marrs grabbed Allen, threw him off his bike on to the ground, and forcefully leaned his knee into Allen's neck and shoulders, handcuffing him. Allen's groceries spilled out on the ground, and his bike hit his shins, causing pain and bleeding.
Allen was acquitted by a jury three months later. His lawyers say the Police Bureau failed to adequately train its officers on racial profiling and made a false arrest that caused Allen physical and mental suffering.
News of this lawsuit broke on the same that that the Portland Bureau of Transportation hosted a lunchtime discussion session titled, Vision Zero and the Equity Lens. One of the major currents of that discussion is how to create safe street environments while making sure enforcement does not have an unequal impact on people of color and in designated "community of concern." Increased police enforcement used to be considered a pillar of safe streets programs; but the City of Portland's Vision Zero Action Plan was adopted with specific language that prevents increased enforcement. The reason? Fears of racial profiling similar to what happened to Mr. Allen.
Read more coverage of this story from The Oregonian.
— Jonathan Maus: (503) 706-8804, @jonathan_maus on Twitter and jonathan@bikeportland.org
BikePortland is supported by the community (that means you!). Please become a subscriber or make a donation today.