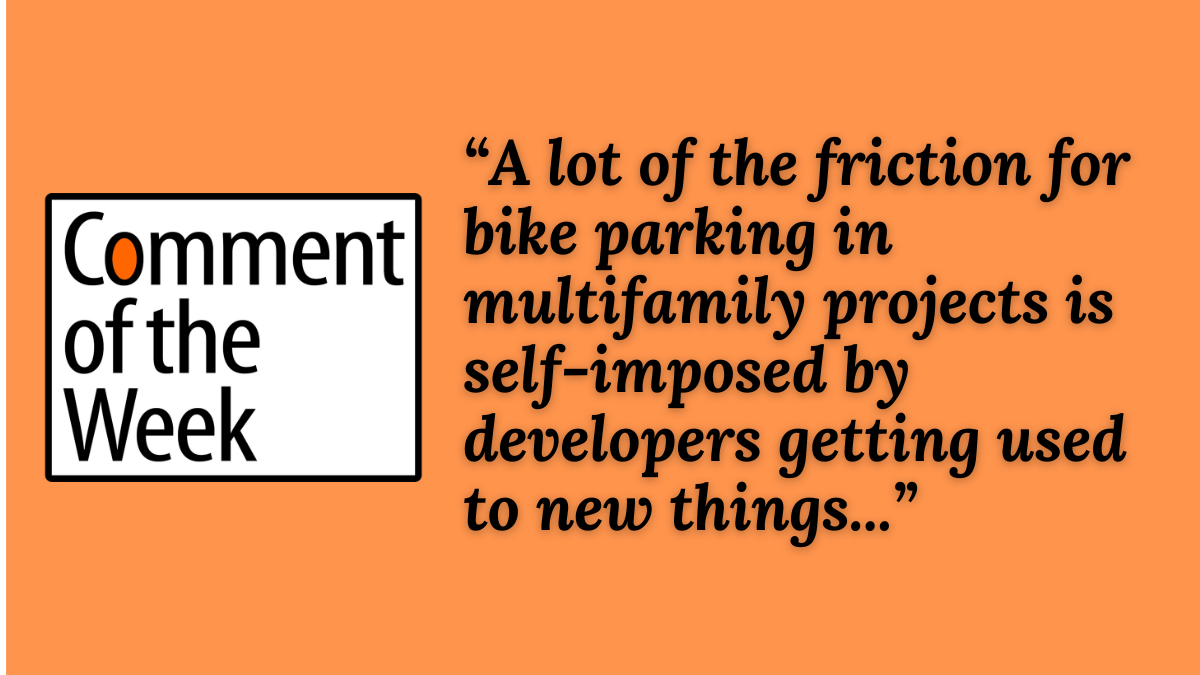 BikePortland regularly covers stories which are somewhat technical, and our readers benefit from the many pros who comment here. I certainly appreciate it when commenters I've grown to trust over the years share their expertise.
The City of Portland's Housing Regulatory Reform program (HRR) is about as technical as it gets, and it is also an overwhelming subject because building code regulates so many different things. We've been focusing on bike parking; but even that one sliver, if you want to go deep, touches macroeconomics, finance, the micro economics of building in Portland, creating a resilient city … OK I'll stop.
Commenter Todd/Boulanger knows a thing or two about parking bikes, and he has broad experience beyond Portland, so I'm always glad to see him weigh in. He tends to have a good view of the big picture.
Here's Todd's reaction to last week's vote by the Planning Commission to recommend rolling back key requirements put in place in 2019:
Again I will restate: after working on several developer projects and proposals for others in Portland…a lot of the friction for bike parking in multifamily / mixed use retail projects is also self imposed by the development community getting used to new things: That bike parking is typically the "last" item located in a project which brings up higher implementation costs. Plus the racking install is the 'last item' on the punch list and has to be worked around the other contractors work and thus react to any omissions others have overlooked and thus changed in the as-built to make their install go better. Floor staple racks are pretty easy to implement but when bike parking goes 3D (multi tier or wall rack) and requires vertical spacing it is all too often encroached on by HVAC, fire sprinklers, plumbers (from the units above)…etc.

So now that the 'baby has been thrown out with the bath water' … the only solution that will fulfill the city's climate outcomes is to build bike parking in mobility hubs on each block of new dense housing / mixed use developments. The city may as well add car parking to these mobility hubs so that the car spaces can be reallocated over time to bikes, EV charging and other new transportation technology vs building the current generation of car parking warehouses that will be fragmented and harder to reinvent / reuse in 10 to 30 years. Or deploy the next generation of bikesharing with e-cargo bikes, e-family bikes etc.
Thank you Todd/Boulanger. You can read this comment, and a lot of other good ones, at the bottom of the post.