Oregon's first speed camera has had a very busy first month. And that's great news for fans of safer streets.
The Portland Bureau of Transportation installed the camera on SW Beaverton-Hillsdale Highway on August 25th. It's been issuing only warning since then but the agency announced this morning that as of tomorrow (9/24) the warnings end and the citations begin.
If the first month is any indication, the camera will be a huge success (unless people don't mind getting tickets). PBOT says the presence of the camera (and associated signage) has already reduced top-end speeding by 93 percent (more stats below).

To go along with their announcement today, PBOT is doing something else that's very smart. They're using the media to shame unsafe drivers. As both warning and example of how the camera works, they've singled out a person they caught driving a white SUV at 72 mph — in a 40 mph zone. Watch the dangerous driver get caught on film in the video below:

While anecdotes like that are fun, PBOT is keeping their promise that all their Vision Zero-related work will be based on data. Beaverton-Hillsdale Highway (locals call it "BHH") is part of the city's High Crash Network and stats show that its dangerous not only for people in cars but that people who walk along or across the road are twice as likely to be struck by another road user than the average city street.
We can sit around and talk about how inherently dangerous streets like BHH are, but these cameras give us a way to add authority and focus to those conversations.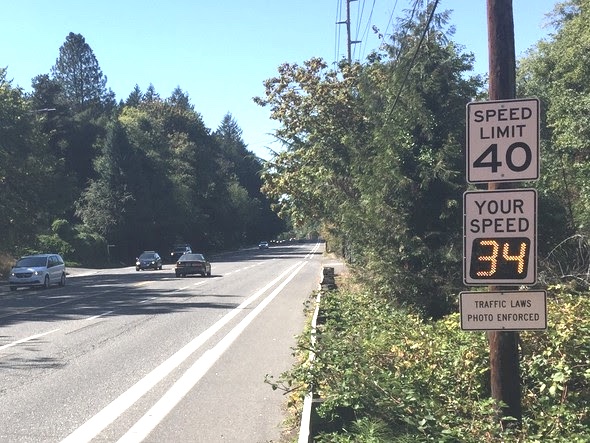 Here are some facts about the BHH camera released by PBOT today:
— Before the cameras were installed, an average 1,417 vehicles a day traveled 51 mph or more over the speed limit faster, according to readings by a pneumatic tube laid across the roadway.

— During the warning period from Aug. 24 to Sept. 18, an average 93 vehicles a day were found traveling 51 mph or faster — a 93.4 percent reduction from the tube count.

— In the first week of the warning period, cameras recorded an average 115 violations a day. Violations dropped to an average 72 a day by the week of Sept. 12 to 18.
PBOT Director Leah Treat, who had to spearhead a change in Oregon law just to be able to install cameras like these, said, "For us to reach our Vision Zero goal of ending traffic fatalities and serious injuries, we need tools like these cameras."
Thanks to the passage of HB 2621 last year the City of Portland can install speed cameras (PBOT calls them "safety cameras") only on designated High Crash Corridors within Portland city limits. When someone is caught speeding by one of these cameras, the typical fine is $160. By law, that revenue must be spent to pay for the camera program or to make safety improvements along High Crash Corridors.
Next spring PBOT will roll out cameras on three very notorious streets: SE 122nd Avenue between Foster and Powell, Marine Drive, and Outer SE Division.
— Jonathan Maus, (503) 706-8804 – jonathan@bikeportland.org
BikePortland is supported by the community (that means you!). Please become a subscriber or make a donation today.