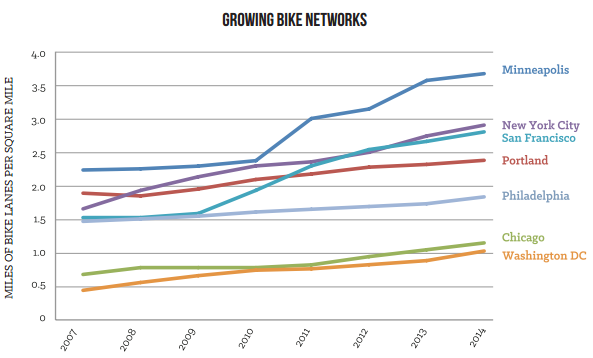 While Portland celebrates a strong first day for Biketown, a new report about the factors that drive growth in bike sharing shows how Portland has fallen behind the leading U.S. cities in new infrastructure.
Minneapolis, New York City and San Francisco now have about 50, 20 and 15 percent more bikeways per square mile than Portland respectively, the report found. All three of those cities has seen faster bikeway growth than Portland since 2010, the year Portland passed its ambitious Bike Plan for 2030. In Minneapolis, bike infrastructure has grown three times faster.
These new figures were released Wednesday as part of a report by the National Association for City Transportation Officials, which examined the role quality bike networks play in making bike sharing safe and popular.
Kate Fillin-Yeh, the report's author, said in an email Wednesday that the city totals include bike boulevards, which in Portland are called neighborhood greenways. The neighborhood greenway system was the city's major investment in new bikeways under Mayor Sam Adams, but in part because the city has relied on slow-churning state and federal grants, some projects that began under Adams — the 20s Bikeway, for example, or the 4M Neighborhood Greenway — have yet to be built years later.
Mayor Charlie Hales essentially killed the neighborhood greenway program in 2013 amid a post-recession budget crunch. Only small bits of new bikeway mileage have arrived on city streets since, though Hales did later create a program to add speed bumps and diverters to existing neighborhood greenways.
NACTO's report marked the first time in five years that someone has gathered this data for multiple cities. It was included in a 2012 report from the Alliance for Biking and Walking but hasn't been part of follow-up editions.
The report focused in particular on the ways bike infrastructure tends to drive up ridership, which in turn increases safety.
The connection between bike share ridership and high-quality bike lanes is clear: people ride more when they have safe places to ride. Less explored is the positive feedback loop between bike share, the creation of protected bike networks, and overall cyclist safety – and the importance of this feedback loop in helping to address the systemic inequities in the U.S. transportation system.
It also discussed the fact that people who identify as black or Hispanic are more likely to die on a bicycle than people who identify as white, Asian or Pacific Islander.
An analysis from the League of American Bicyclists found that Black and Hispanic cyclists had a fatality rate 30% and 23% higher than white cyclists, respectively, and similar racial/ethnic safety gaps are found for pedestrians. In focus groups and surveys, low-income people and people of color cite concerns about safety and lack of bike lanes as a main reason not to ride.
Does this report mean Portland is no longer the best large city to bike in? No. As the report notes, the point of bike infrastructure is to increase ridership and improve safety. Portland currently beats these rival cities on both measures — even though Portland's city limits happen to include plenty of bike-unfriendly areas.
Data
: Census American Community Survey. Charts: BikePortland.
What the report means is that compared to those cities, biking hasn't been improving much in Portland.
For example, the probability of a traffic death or serious injury for people on bikes in Portland fell sharply in the 2000s, but has rebounded a bit since 2010:
There's reason to hope that Portland is finally turning a corner on infrastructure. Some of that slow-churning state and federal money is finally arriving on the streets. Because the new local gas tax won't have complicated strings attached, projects should be able to move faster.
And this summer's burst of bike improvements for NW Naito, N Mississippi, SE Ankeny and NW/SW 2nd Avenue, plus the nine small protected bike lane projects in progress around the city, seem to suggest a new urgency in city government to make streets safe for a surge of new bike-share users, among others.
Making our bike-sharing system successful definitely isn't the only reason to improve city streets. But with luck, it'll help focus the city's attention around the need.
— Michael Andersen, (503) 333-7824 – michael@bikeportland.org
Our work is supported by subscribers. Please become one today.