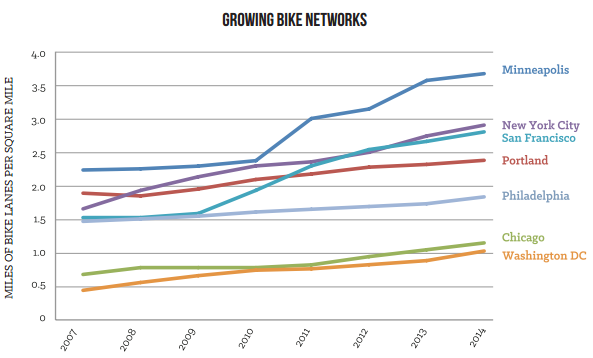 While Portland celebrates a strong first day for Biketown, a new report about the factors that drive growth in bike sharing shows how Portland has fallen behind the leading U.S. cities in new infrastructure.
Minneapolis, New York City and San Francisco now have about 50, 20 and 15 percent more bikeways per square mile than Portland respectively, the report found. All three of those cities has seen faster bikeway growth than Portland since 2010, the year Portland passed its ambitious Bike Plan for 2030. In Minneapolis, bike infrastructure has grown three times faster.
These new figures were released Wednesday as part of a report by the National Association for City Transportation Officials, which examined the role quality bike networks play in making bike sharing safe and popular.