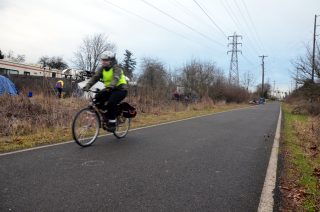 It's been a week since someone living on the Springwater Corridor survived a gunshot and months since it became maybe the largest single tent camp — tent suburb? — in Oregon.
Consciously tolerated by the city government under an uneasy compromise brokered by Mayor Charlie Hales and his (now former) chief of staff Josh Alpert, the encampment has gotten more and more complicated as it's become a more common place for people without a roof to look for refuge. It's also gotten harder for people biking on the Springwater to ignore. With Alpert gone from the city as of July 1, the camp's future is newly uncertain.
Thacher Schmid (who I should disclose is also a personal friend of mine) is a freelance reporter based in Portland, writing in this case for his own website. He rode his bike to the camp last week and spent a few hours talking to people there about their lives and the city's efforts to reduce, manage and regulate homelessness.
We found the post full of surprising details and definitely worth a read.
Depending on how you define a "camp," the bicycle trail and footpath area between SE 82nd Ave. and the Beggar's Tick wildlife refuge at 111th Ave. is possibly the largest homeless camp in the city of Portland, perhaps even all of Oregon.

It promises enormous challenges for any police officers, park rangers, advocates, officials or neighbors who would try to "sweep," relocate or re-house these hundreds of campers.

It also suggests that the geography of poverty is a crucial aspect of the situation: for all intents and purposes, in Summer 2016, along the Springwater Corridor, the place is the people and the people are the place.
The people, Schmid writes, have definitely been affecting the place.
Furniture, including heavy items like dressers, are set to within inches of the Springwater Corridor itself in some places, suggesting how much work campers have put into their homes. Soccer ball sized rocks delineate pathways filled with wood bark leading to shared campsites, and some tents are lovingly cared for, with immaculate gardens featuring five-foot sunflowers nearing bloom.
Among other people, Schmid interviews the camp's "self-appointed spokesperson," a "highly intelligent, 34-year-old, self-described 'hipster' and laid-off aerospace steelworker" who goes by "Crash Anarchy," identifies their gender as "your answers may vary" and wears a Guy Fawkes mask during the interview.
"We're going to get kicked out next week," Crash said. "They will lock people up when they come."

Tom Alvarado, a customer at Cartlandia and local who often bikes down the corridor at perhaps a slower rate than the constant stream of Spandex-clad flyers, is sure the Springwater situation is becoming more precarious. Alvarado says recently he's had to stop and basically ask permission from campers to bike through crowds blocking the path. He's seen piles of feces on the trail itself for the first time in the last few days.

"It's crazy," Alvarado says. "It's apocalyptic down there. It sucks all around: it sucks to be homeless, but it sucks to be someone who pays rent and deals with it."
Several other people talk about how they landed there.
"It all started with a little vacation," Blaga explained, sober as a judge and munching on a burrito. "It," as in: car accident, lower back pain, lost job, waiting for an insurance settlement, car thefts, wallet stolen.
Schmid, who recently went deep into Hales and Alpert's new policy for legalizing and regulating small tent camps in an article for the Northwest Examiner, asks people there what they think.
Asked about Alpert and Hales' Safe Sleep policy, and the possibility that Mayor-elect Ted Wheeler will be less tolerant of camping, Crash said that would be "awful."

"The only reason we don't have to be afraid to fall asleep is because we have each other," Crash said. "Shuffling people up and down the bike trail and giving them exclusions is not fixing the problem."

Safe Sleep allows for a maximum of 8 structures or individuals in a single campsite, so Camplandia is certainly not allowed under Safe Sleep or any other city policies, past or future.
Schmid's report about people living on the Springwater is the first on his new Medium site about local poverty, called "Poor for a Minute." If the subject interests you, check it out.
— Michael Andersen, (503) 333-7824 – michael@bikeportland.org
Our work is supported by subscribers. Please become one today.